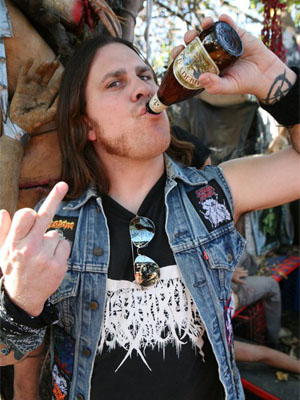 Northern California's Exhumed made themselves a name back in the late 1990s by fusing Carcass-style grindcore with energetic and melodic death metal of the Swedish style, injecting a lot of punk along the way.
Although this created more of a popular form of death metal than the original underground style, it introduced many new fans to the genre and created a framework for an integration of punk into the style. Its enduring popularity has provided Exhumed with a legion of fans.
We were fortunate to be able to talk to Matt Harvey, who has been "the voice of Exhumed" for almost two decades now. Most of our questions focused on Exhumed's latest album, Necrocracy, and what the band's been up to since.
I realize genre names aren't all that popular, but what genre is Exhumed these days? Are you grindcore, or death metal, or did you invent something new?
I think we are what we've always been: Gore Fucking Metal. I don't know that it's something completely new, but it's a combination of all the stuff we've always been influenced by, Death Metal, Grindcore, Thrash, NWOBHM, Powerviolence… All the good stuff, haha!
What is the ideal environment in which to enjoy an Exhumed album?
As long as there's beer and lots of volume, then it's good. I think that's up to the individual. For me, I'd say you'd want a 12-pack of beer, some expendable furniture to smash, and a few friends would be the best accoutrements to a listening session.
Necrocracy is quite provocative. It seems to suggest that the world is not as peachy as my television tells me it is. Can you tell me more about the concept of this album?
Yeah, I'd say the world is not that peachy keen. The lyrics still revolve around death and gore, but they use those concepts as a metaphor to discuss a lot of the things going on in the current US political and socio-economic climate. The songs usually revolve around stuff like the destructive influence of corporate greed (Ravening), the gross inequalities inherent in the taxation / medical system (Coins Upon The Eyes), the meaningless pandering of the electoral system (Necrocracy), and the distorted perception that Americans have of their way of life and country's role in the world (Dysmorphic).
You're back after a hiatus. What made you personally and all of Exhumed decide to return?
It was one of those thing where it just made sense to do a new record. I had had enough of the break, and was just getting back into writing these kinds of riffs and songs and stuff. And it was one of those things that just kind of came together and took on a life of its own which was pretty awesome.
What are you most looking forward to on tour?
Free beer and seeing friends in different cities and states. Same as always! Plus I get a lot of reading done on tour, haha!
Do you think metal's in bad shape? A lot of people seem to think it has become redundant. What do you think about modern metal, metalcore, etc?
I actually think metal is really healthy. There's all kinds of niches and sub-genres all over the place, and every form of metal, from 70s proto-metal to the most modern math-rock stuff has an audience. If you think about it, the first Sabbath record came out over 40 years ago, and in order for the genre to move forward and stay viable, creatively and commercially, it has to change and evolve. Me personally, I'm really only into 70s / 80s / early 90s metal, but I'm in my late thirties. By the time my Dad was my age, I was thirteen, and it seems silly to think that a thirteen or fifteen year old kid is going to be into the same music as a guy that's 37 years old. It's easy to be nostalgic or think that one specific generation has "nailed it" and everything else is false – people into Blue Oyster Cult and Thin Lizzy thought "Kill 'em All" was just noise when it came out, people into Exodus and Slayer thought "Scum" was crap when it came out too. Things move forward. You don't have to like it all, but you have to accept that it's the way things work. While a lot of the modern stuff isn't my personal cup of tea, it's good that things keep moving forward and the genre stays viable.
How do you think Exhumed has grown and dare I say…… "progressed" ….over the years?
We'e always had the same kind of riffs and stuff, based our shit around the Repulsion / Terrorizer / Carcass / Napalm Death / Death / Autopsy template, but we've definitely gotten better at structuring songs, incorporating melody, using tasteful guitar solos and shit like that. It's all been a very slow and gradual, so sometimes it seems to me like we haven't progressed at all, but then I listen to some of our old stuff and I realize that we have come a bit of a ways through the years, which again, is a positive thing.
Are you planning to continue for another album or more, after Necrocracy?
We don't have any plans of stopping, if that's what you mean, haha! I have an idea for the next album title already, but we'll jump off that bridge when we get to it, haha!
What do you think made death metal and grindcore what they were? Did it take a state of mind to make music like that? Can it return?
I don't think it can ever "return" or be the way that it was, which is as it should be. At the same time, the same spirit of wanting to play more intense music, pushing the boundaries, it's still alive, it just manifests itself differently because of the context of the times. There are still tons of great grind bands out there, Nails is awesome, Teething is great, and those bands are about as traditional grind as it gets. Same with Death Metal, there's a resurgence of bands playing in the older style that's awesome to see. There's at least a nostalgia and a place for that kind of music that isn't going away and that's awesome and gratifying to see.
The song "Coins Upon The Eyes" is super-catchy and yet really abrasive. How do you write material like that? Do you just think up a riff, or sit down and design it?
We actually have a bunch of multi-colored balls that represent different riffs, then we throw the balls into a pool full of seals, and whatever order the seals flip the balls back to us is the order that we play the riffs in. It's basically a foolproof hit factory!
Honestly we just think of things in terms of songs, not in terms of "brutality" or something ephemeral or subjective. With "Coins," it's almost like what we did with Waxwork, where you have one main riff (the chorus) and most of the other riffs build from the note choices and movement within the main theme. From there, the pre-chorus and the guitar solo parts serve as the contrast points, being in different keys with different rhythmic structures to build tension.
Of course, it's not quite so scientific when you're coming up with the riffs, there's a fair amount of playing from the gut that kind of pulls you in the direction that the song wants to go. After you have something that works, you can analyze it, and that analysis will help you know what works next time around. I'm a big adherent to the pop songwriting philosophy and we try to always include some hooky choruses and catchy stuff in every song.
That's really the ultimate goal, now that we know how to be heavy and brutal and all that stuff – whatever that means, haha!
Tags: exhumed, Grindcore, Matt Harvey