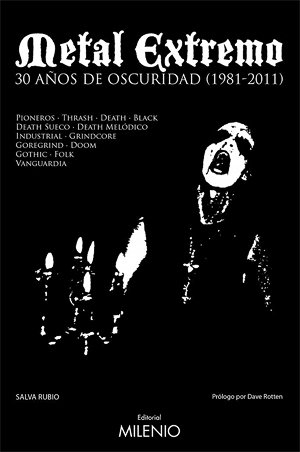 As the years have churned by, interest in underground metal has grown as metal fans have become more experienced and come to want more complete assessments of the music of their youth, and as outsiders and new fans discover this field. To support this, a fleet of books have been launched to cover it.
A recent addition is Extreme Metal: 30 Years of Darkness (1981-2011), by Salva Rubio, a writer in Spain. Rubio holds a degree in art history and works as a screenwriter and writer in his native Spain. Right now, the book is only available in Spanish, but it's possible that a translation to English and other languages will follow.
According to the website for Extreme Metal: 30 Years of Darkness (1981-2011), the book "includes essays about the ethical and aesthetic nature of Extreme Metal, a formal account of what distinguishes each style and how they are meant to be played, a chronological, style-by-style story of how each kind of Extreme Metal evolved."
The book has a Facebook site in an effort to build some community behind the release.
Tags: book, extreme metal, salva rubio, underground metal