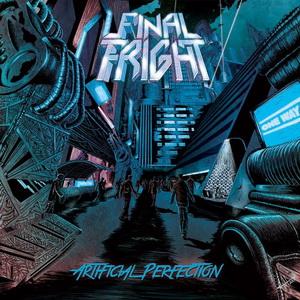 Hailing from Italy, Final Fright play ripping speed metal right out of the mid 1980s. Established in 2010, the band played covers, released the demo Abusive Grindhouse in 2012 and now in 2015 present us with their first full-length album, Artificial Perfection.
Unabashedly retro in their choice of style, Final Fright feels completely at home and does not try to impose modern conventions on the language of this particular brand of speed metal. Neither is the band copy pasting from particular acts. Artificial Perfection sounds like a someone learning and dominating a foreign language. When this happens, the music does not come out sounding like a cardboard front disguising something else, but the artists are able to express themselves as native speakers in the lingo of the genre.
But speaking a language does not necessarily imply you have something worth saying. So it is that the honest and proficient handling of the musical language by Final Fright is satisfactory and even enjoyable but unexceptional all the same. People looking for bouncy, authentic speed metal in a different mouth and voice but offering nothing different will find this is a fantastic release for them.
Tags: 2015, Artificial Perfection, Final Fright, Italy, retro, Speed Metal, Thrash