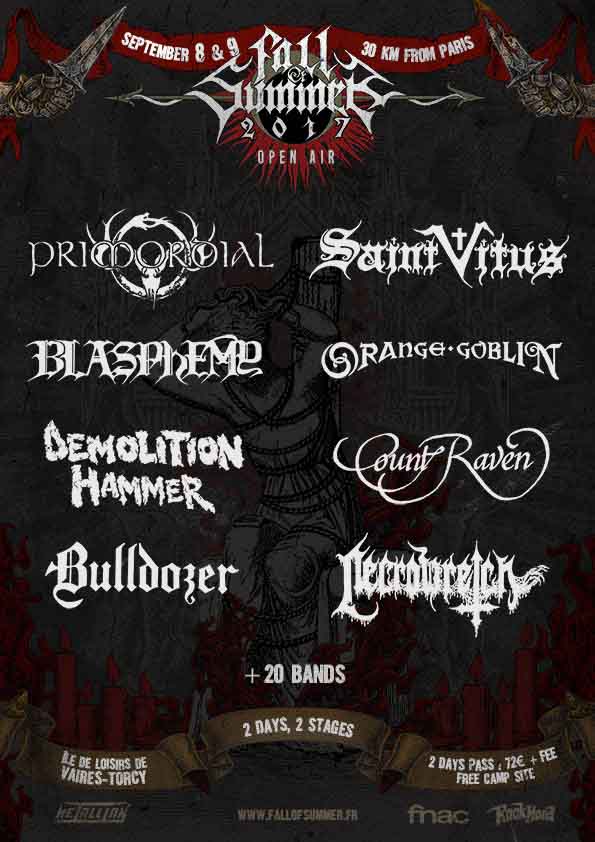 The first batch of bands for the Fall of Summer 2017 festival in France were announced in an overenthusiastic press release for a decent but not great lineup. Blasphemy, Demolition Hammer, and Bulldozer are playing along with a bunch of dumb hipster bullshitters and stoner doom idiots. Check it out if you're nearby and want to deal with a bunch of drunken beer metallers.
The Fall of Summer team is proud to unveil the first eight bands of its 2017 line-up. If you like doom metal you'll be happy to see the Americans from SAINT VITUS on stage or the first french gig of the Swedish COUNT RAVEN and if you prefer stoner metal, the English from ORANGE GOBLIN will be there for you.
We're also glad to announce that the mighty PRIMORDIAL and their mix of black metal and irish folk will share the stage with the Canadians founders of war metal BLASPHEMY for their first show in France since 1993. For those who are more into thrash metal be sure not to miss the Americans from DEMOLITION HAMMER who haven't played in France for more than 27 years or the Italians from BULLDOZER for who it will be the first time. And because our country has some great bands to offer, NECROWRETCH will amaze you with their high quality death black metal !
Tags: blasphemy, Bulldozer, Demolition Hammer, festivals, france