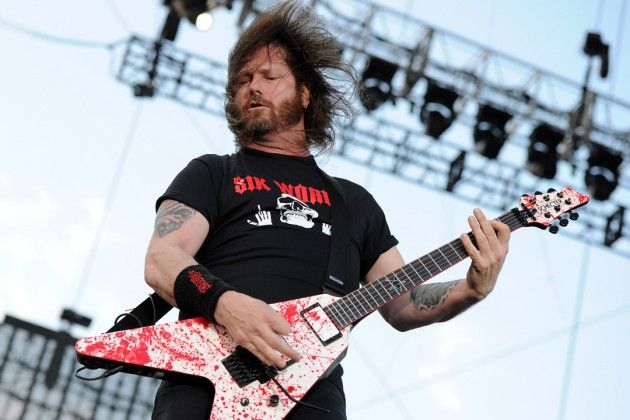 Current Slayer guitarist Gary Holt (Exodus), who replaced former primary songwriter Jeff Hanneman after Hanneman contracted necrotising fasciitis from a spider bite and drank himself to death, told Ultimate-Guitar that he is prepared to write new music for Slayer. This can only be an improvement as Kerry King wrote all of the godawful Repentless.
"I'm certainly well prepared to do it.
"I get a lot of people saying, 'Oh yeah he plays for Exodus, but can he write a Slayer song?'
"You know, quite often the difference between an Exodus song and a Slayer song is just note selection. It's all thrash metal.
"You can differentiate the subtleties like Kreator is more melodic than Exodus and Slayer is more chromatic.
"I've played in the band long enough to where I think I have a good enough insight into how a slayer song goes versus an Exodus song.
"So I'm ready to go if and when the time arrives."
Holt does not recognize that Slayer effectively wrote melodically coherent riff mazes in death metal style and that Kreator were random. He is however, right on about Slayer's riffing mostly be chromatic and Kreator engaging in major scale idiocy. Even if Holt utilizes chromatic triplet riffs he was unable to make work in Exodus and works them into simplified, Reign in Blood or Seasons in the Abyss style compositions, that would still be a great improvement over Slayer's recent work.
Tags: Exodus, gary holt, kerry king, kreator, slayer, Speed Metal