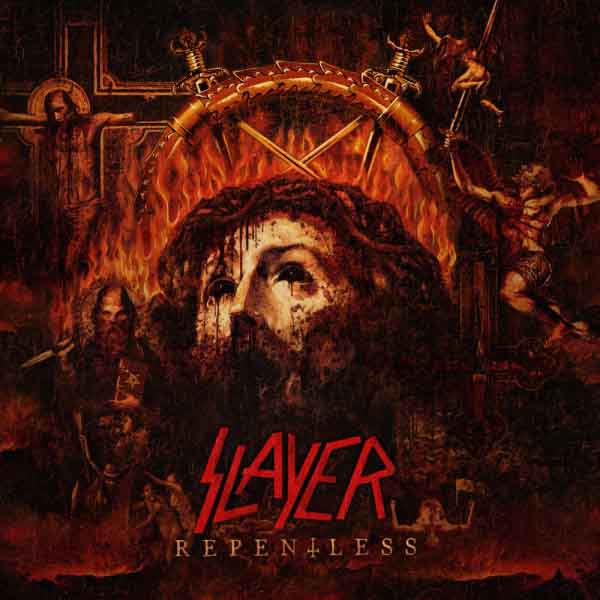 It probably bears mentioning that I consider Hell Awaits to be Slayer's peak. While it could've used a larger recording budget, it showcased some of the band's most elaborate and well-written compositions. The band didn't generally follow up on this approach on later albums, but you can hear the lessons applied on the rest of Slayer's classic '80s material, and therein lies a lesson. At their peak, Slayer had obvious songwriting formulas, but were able to go build more elaborate and memorable works due to their solid understanding of song structure.
Repentless is Slayer's 3rd attempt to recapture something else of that era. The production standards are admittedly better (although Slayer generally had good producers working for them in the past as well), but everything else is the stereotypical speed/death assault that the band helped pioneer. Paul Bostaph and Gary Holt serve as adequate substitutes for the departed Dave Lombardo and the deceased Jeff Hanneman (R.I.P), carrying on general stylistic trends without rocking the boat too much. That this is a commercially viable endgame for popular metal bands is something I expect to be one of the major themes of my tenure here at DMU. Even now, though, cracks are showing in the war ensemble – Tom Araya's vocals are a major stylistic weak point on Repentless. His shouts have become more "extreme" and insistent in recent years, but his ability to vary his vocal techniques has all but collapsed. This album's prosody is the worst casualty yet, as he delivers these monotonous shouts in unvarying rhythms; the effect is essentially the same as shouting nursery rhymes into a megaphone from your neighborhood rooftops.
Araya's weaknesses are particularly damning on an album that relies so heavily on vocals to retain the listener's attention, especially when everyone else on the recording is so competently unremarkable. We live in the age of self-referential Slayer, a long darkness that our learned scholars perhaps debate the duration of in their moments of distraction. Repentless is essentially a more formulaic version of previous Slayer albums that themselves were a simplification of their own predecessors. It's very likely that the songs here sound marginally more like classic Slayer than those on Christ Illusion or World Painted Blood, but their unwillingness (or inability) to expand on basics renders them ultimately pointless. I can't fault the band for continuing, though; previous recordings, while underwhelming, more than satiate an omnivorous fanbase who will probably go back to Reign in Blood after a while.
Tags: 2015, death metal, mainstream metal, Repentless, slayer, Speed Metal