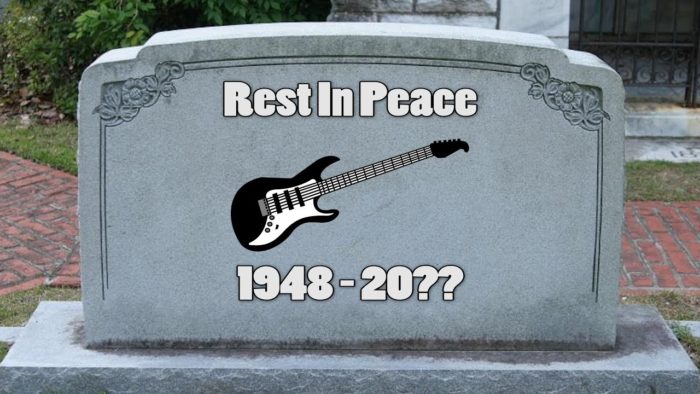 Gibson Guitars are on the verge of bankruptcy per an article in the Nashville Times.  The famed company is currently in a shitload of debt and its bondholders are panicking as their CFOs are abandoning ship. Despite bringing in a billion dollars last year, the prospects of Gibson are uncertain which begs the question: What future do high-end guitar brands have in a world that's gravitating towards electronic music? And more importantly- is the death of electric guitar closer than we think, like many are claiming?
If Gibson- the most famed and widely used high end guitar brand- is having trouble of this magnitude despite a healthy revenue stream and a plethora of suits investing, this may be warning shots for similar brands like Paul Reed Smith Ltd and Taylor Guitars.  Guitar sales in general have been in massive decline: over half a million less were sold in the past 10 years than the decade prior.  Deep State propaganda outfit The Washington Post declared it was "the death of the electric guitar" although in fairness, they also claim Democracy is dying in darkness.  Still, many are waking up to grim and ugly truth:  for the masses, playing guitar has lost its luster.
Let's face it: DJs and rappers are the new normie rock stars.  Meanwhile, retail is being obliterated in America and online shopping is taking its place.  Now think about it: in this environment, who's to scam clueless parents out of buying a cheaper Korean model for little Johnny's first guitar?  Why will the youth pay more for an instrument that's lost its luster in the eyes of most?  How can guitars survive when guitar heroes are no more and mainstream outlets have left guitar based music for dead?
We will keep a close eye on this situation, but make no mistake- for high end guitars, guitar retail stores, and guitar sales in general: a full collapse is imminent.  
Tags: bankruptcy, death of the guitar, decline, doom, Gibson, guitars, high end guitars, Korean guitars, news, panic, Paul Reed Smith, Taylor Guitars, trends