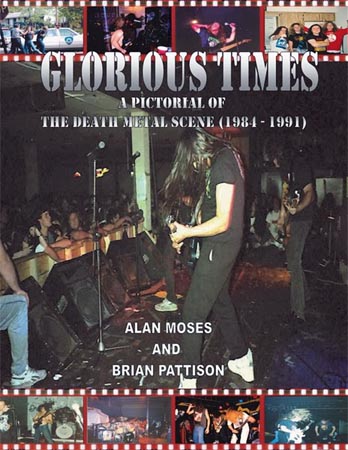 We finally got our hands on a review copy of Glorious Times here at the HQ, and the verdict is in: much improved over version 1.0, but still a niche product, so those of you who want Death Metal History for Dummies will need to go elsewhere.
Glorious Times does a supreme job of immersing you in the culture, the music and the feel of the era without having to shape your mind with a narrative. This is both its strength and weakness. Compiled entirely of first-hand statements from musicians and writers from the era, the book lets you make up your mind and read for whatever interests you. This was I think a mature decision, because the writers recognized the niche nature of this material.
My co-editor, Kontinual, and I differ on the importance of this book. I see it as a compilation of primary sources; he, rightly, points out that it's for a niche and not ready for mainstream consumption. I don't see these two views as incompatible. Glorious Times is a primary source, and will be in for future academics and journalists, but right now it's us nostalgia freaks who are checking it out.
And therein lies its strength. While the editors could have conducted interviews and comped statements together into a summary, imposing order and assessing data, that would have produced a linear perspective. Instead here you get the history told by as many people as wrote in for the book, which shows us how people differed in their approaches to this music, and yet also, where they converged. No linear narrative can show the same breadth.
Fans of the music, as opposed to academics and journalists, will find that like other legendary metal docs like Are You Morbid?, Lords of Chaos and Until the Light Takes Us, this book enmeshes us in the atmosphere of the time. You get to hear all about tape-trading, the personal lives of musicians, how people got into the music, and the decisions they made with their bands and lives. You don't get the kind of clear but oversimplified summary that Sam Dunn peddles in his Global Metal (my personal favorite of his movies); instead you stagger into this strange land where gnarled figures emerge from the mist and tell you their story in riddle and rhyme, then leave you to drift onward along a hazy road. If you want to know what it was "like" back then, this type of book is your best guide.
Detrators will point out the weaknesses that correspond to this strength. They will also say that the layout is amateurish, which was true on 1.0 but is mostly fixed for 2.0, at least to mainstream rock book standards. Detractors will say that the lack of an editorial voice means that the contribution from band members are somewhat random, and that depending on this volunteerist attitude among subjects means that the bands that didn't make it outnumber the important ones. While these criticisms, as are those of my co-editor Kontinual, are valid, they miss the point: this book is not here to offer an overview, a history or an ideological statement. It's here to give you the feel for the time, and to provide rich primary source material for those who will research it in the future. I hope someday someone makes the sequel to this, in which they interview all of these bands for two hours each and then assemble the statements, but that would lose much of the atmosphere and require a larger staff and budget than any old-schoolers have at this time.
When we look back on any time, we tend to measure its information by what it would mean to us now. We are looking at single facts at a time, and we interpret them as they would fit into our current lives and technology. When we look at ancient Sparta, we are repulsed by aspects of their warrior culture that in our society, would be cruel and unusual. To them, these "repulsive" aspects were a matter of pride, and what shaped them as much as we are shaped by our pride in not being like Sparta. Understanding early death metal is a similar matter, in that our technology and society was so different back then that we cannot place many of these "facts" into context. We need to see them in their original context, and by seeing that social backdrop, understand the atmosphere before we start trying to pull facts out of it. Glorious Times keeps this atmosphere intact and, while it may be a niche for death metal nostalgia buffs at this point, for the future it is the first serious record of the early years of death metal's genesis.
Tags: death metal, glorious times