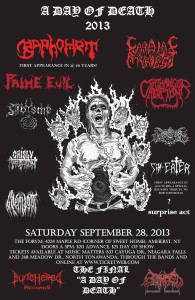 The guys behind Glorious Times, the book that helped many rediscover the early death metal and black metal underground, are presenting the latest in their series of classic death metal concerts named after the original "A Day of Death" back in 1990.
Unfortunately, this one is also the last they're going to do of this series.
Like many shows, this has brought several bands out of retirement. This will be the first show of Baphomet/Banished, famous for their brooding chunky heavy metal, and bands such as Sin-Eater who have been inactive until this time.
A Day of Death 2013
Saturday, September 28, 2013
The Forvm Buffalo
4224 Maple Rd Buffalo, NY 14226
(716) 831-3271
Doors at 5 pm, 1st band at 5:30pm
$20 advance, $25 day of show
Here's the list of bands performing:
BAPHOMET (1st show in 20 years)
SIN-EATER (one-time reunion, 1st show since '92)
UNNANNOUNCED ACT
Tags: a day of death, baphomet, glorious times, prime evil