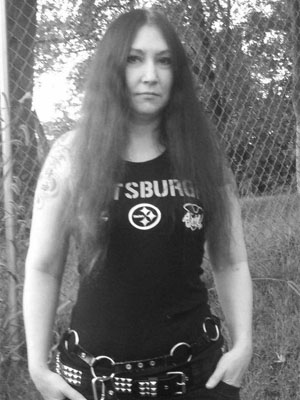 As you may have read on this site, recently Jill Funerus (bassist/vocalist for FUNERUS) who is also the wife of John McEntee from Incantation ran into a spate of health problems. In addition to battling neuropathy and diabetes, she suffered a heart attack and related kidney dysfunction, but has pulled through.
We congratulate her on having survived such an intense health challenge. However, neither she nor her husband have health insurance and thus, they're facing some intense bills for the surgery, medicine and several days she spent at the hospital.
The metal community is banding together to help them. Through the hands of Brian Pattison, one-half of the Glorious Times team, a benefit show has been established with 100% of the profits going to Jill Funerus' medical bills.
Jill Funerus Benefit
Thursday, October 17 at 7:00pm EDT
The Forvm in Buffalo, New York
4224 Maple Rd Buffalo, NY 14226
(716) 831-3271
If you can't make the show, like many of us who are thousands of miles away, you can send money via paypal to info@funerus.com. If you are from a metal band or have something else you can donate for sale/raffle at the benefit, please message the Glorious Times team via glorioustimesdeathbook@gmail.com. See also the Facebook event listing.
List of bands supporting the Jill Funerus benefit:
Abnormality
Abolishment of flesh
Abysme
Autopsy
Barzakh
Bernd Backhaus
Black Bear Printing
Blood Coven
Brutality
Buried
Butchered Records
Cannibal Corpse
Cardiac Arrest
Capathian Funeral
Chuck "Patchmaster General" Parsons
Cianide
Circle of Dead Children
Dark Descent Records
Darkapathy
Deathcrawl
Deceased
Deformity
Demented Dream States
Dismemberment (OH)
Druid Lord
Embalmer
Emblazoned
Fleshbound Productions
Full Blown A.I.D.S.
Glorious Times
Grave Descent
Gravehill
Gutter Christ
HPGD
Horrormerch.com
HRA
Immolation
Impetigo
Insanity
Jaymz Delisle
Jeff Standish
Legacy of Death Productions
Liquified Guts
Low Road Revival
Lucertola
Malevolent Creation
Malignancy
Manticore
Master
Mat Romero
Mausoleum
Mike Browning (Incubus)
Misery Index
Music Matters
New Order Records
Nokturnel
Nokturnel Eclipse
Pathos Productions
Prime Evil
Radiation Sickness
Randy Kastner
Repulsion
Rottrevore
Sacrific
Sam Biles
Sathanas
Seplophile
Signature Riff
Soulless
Splatterreah
Stevo (Impetigo, Tombstones)
Tainted Entertainment
Vile Records
Visions of the Night
Wehrmacht
Tags: alan moses, brian pattison, glorious times, jill funerus, john mcentee