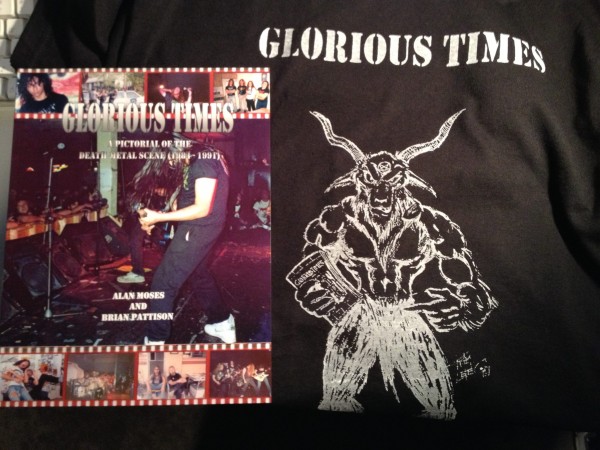 Kam Lee, former vocalist of Mantas/Massacre and former editor of Comatose Zine, has contributed art for the official Glorious Times tshirts printed for fans of the book and the time period. The shirts are white print on black and feature the Glorious Times stencil logo and art on the front.
We have covered Glorious Times in the past, but for the newcomer, it is a book of retrospectives by people who were active in the death metal underground from 1984 to 1991, which were the formative years of the genre and its earliest internal differentiation. Featuring many rare photos and perspectives, Glorious Times helped kick off the current retrospective view of the old school death metal scene that has brought many bands out of hiding and seen many classic recordings and publications re-issued.
For a sample of Glorious Times, download the Nuclear Death profile and read our update on version 2.0 of the book as well as our original article calling attention to the great work that Alan Moses and Brian Pattison are doing with Glorious Times and their help for the underground metal scene. Then consider buying a tshirt to support!
No Comments
Tags: alan moses, ash music, brian pattison, glorious times, kam lee, tshirts