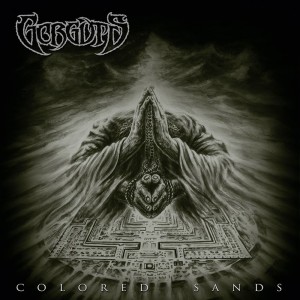 Two of the worst fates in the world: to not know why people like what you do, and to get thrown into the big bin marked "not bad" that contains 99% of human endeavors which are quickly forgotten.
Colored Sands, which sees release today, attempts to recapture the magic of Obscura and From Wisdom to Hate. On the surface, one would see these as a collection of techniques: off-time riffs, odd chord voicings, "deep" lyrics and an affinity for classical music.
Unfortunately, that's all Gorguts took from their back catalog.
As said above, this reviews damns this CD with the faint praise of "not bad." It's much better than the rest of the tek-deth genre, but that's sort of like saying that chainsaw dismemberment is better than Evola. The real problem with Colored Sands is that it's transparent.
You can imagine a group of guys sitting in a room thinking, "How do we make a death metal album edgy?" For starters, they throw in the list of techniques I mentioned. But then they use very similar rhythms, song structures, riff types and even sequence of chord voicings.
We could call this "the Opeth effect": for an instant audience, make music that sounds difficult but in fact is moron-simple and predictable, because it allows people to pose at being elite. It's in full effect here, as bad as on the second Cynic album. It's progressive music for pop fans.
Most of us had higher expectations because Gorguts traditionally held themselves to a higher standard. But what's here is 50% traditional death metal and 50% tech-deth dressed up as prog, and it's boring. The best part is the brief classical piece in the style of the Russians, which is both populist and not all that exciting in the convention of that style.
http://www.youtube.com/watch?v=igkV8F4-fc0
http://www.youtube.com/watch?v=ALRfZPBj4iY
http://www.youtube.com/watch?v=uZlzOOllYdA
http://www.youtube.com/watch?v=pl_LfGnckLs
http://www.youtube.com/watch?v=fWe8gkBRiJM
Tags: death metal, gorguts, nu-core, tek-deth