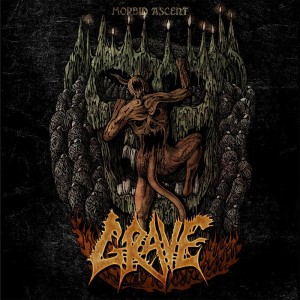 Back in the early 1990s, it was hard to be a death metal fan without encountering Grave's Into the Grave. Primitive, music reduced to almost rhythm alone, it filled the niche between truly primitive grinding like early Napalm Death and the more musically intensive Swedish death metal like Seance.
Fast-forward twenty years. Everyone in death metal, recognizing that their society was going to collapse of its own inertia amidst the confusion and denial of their fellow citizens, have gone on to have families, careers and lives. But in them burns that desire to be known for their place in an important time and activity in their lives, which is the production of death metal.
Morbid Ascent is a new five-track EP with a cover of Satyricon's "Possessed," a remix of a past song "Epos," and a re-recorded version of "Reality of Life," a track from their 1989 Sexual Mutilation demo. The EP will be released both digitally and on vinyl and is available for pre-order at Century Media or on the band website.
Morbid Ascent track-listing
Side 1:
Venial Sin
Morbid Ascent
Side 2:
Possessed (originally by SATYRICON)
Epos (Risen From The Tomb – Remix)
Reality Of Life
Tags: death metal, grave