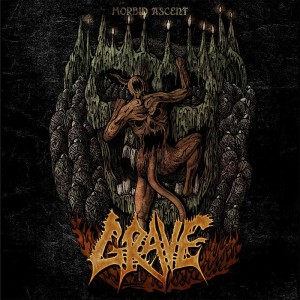 Today classic Swedish death metal band Grave releases its comeback EP, Morbid Ascent, featuring four tracks of death metal and a cover of a Satyricon song. The US version of this release is pressed on mustard-yellow vinyl and can be purchased Century Media.
Known for their debut album Into the Grave from the early 1990s, Grave introduced the rudimentary form of the Swedish death metal sound to a new generation who appreciated the raw intensity of their primal music. Joining a small circle of European bands who were as poundingly violent as their American counterparts, Grave became a staple before fading away in the late 1990s.
Morbid Ascent shows the band resurrecting itself in the present era and attempting to adapt its classic sound and improved technical performance to the demands of a new time, following their 2012 release Endless Procession of Souls. If you're in Europe, you can catch Grave live on October 5 at Zombie Fest II in Oostenede, Belgium.
Side 1:
1. Venial Sin
2. Morbid Ascent
Side 2:
1. Possessed (originally by SATYRICON)
2. Epos (Risen From The Tomb – Remix)
3. Reality Of Life
Tags: death metal, grave, Swedish Death Metal