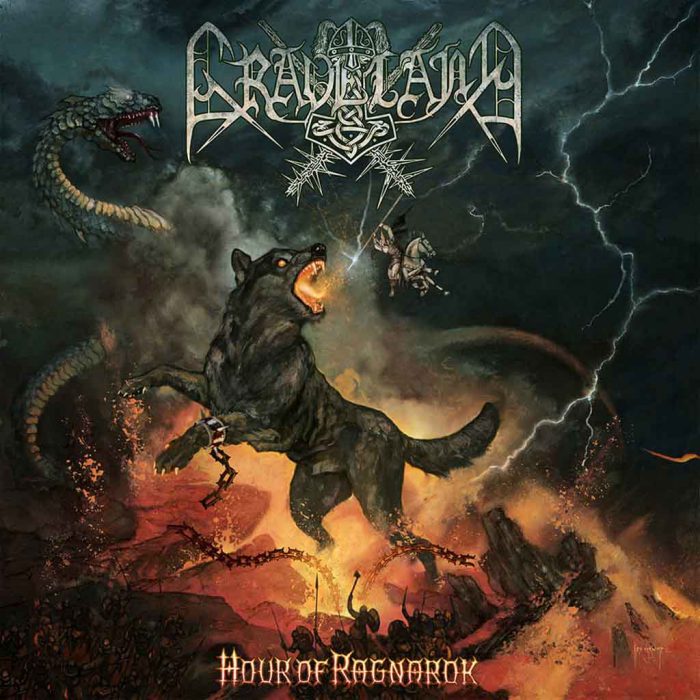 Classic flowing black metal band Graveland has returned, modifying their swing toward folkish soundtrack metal with more rigid, hardcore-style riffs in idenfiably metal songs spanning the black metal, death metal, and heavy metal genres.
The band released the track "The Wolf of Twilight" on May 14 with the following statement:
On the threshold of the coming Ragnarok, Graveland comes to you armed with a new full-length album, with music that was created from the ashes of past battles. The new songs that revived like a phoenix from legends and myths and the most epic Graveland works such as "Thousand Swords" are a continuation of this style of the band. Epic Pagan Metal! Here's the music to prepare you for Ragnarok! Music from the beginning of the history of Graveland, when it was recorded in a full line-up! A sword, arrow and spear held in a strong hand, hardened in sweat, blood and battle. "Hour of Ragnarok" was forged by a three-person line-up.

Three artisans of war weapons took care of it: Rob "Darken" – vocals, guitars, keyboards, Skyth – bass, Ahrin – drums. The songs for the album were created during last three years, but it was 2020 when the work gained momentum. It took a long time to compose and record the symphonic back tracks that makes up the epic background in music. This is a development of an idea that you could have already heared on the album "1050 Years of Pagan Cult". The album was recorded in the Italian studio Rocketbooster.

The Oath Records, Inferna Profundus Records,
Forever Plagued Records, White Wolf Production
Are proud to announce release of new Graveland album!
Out on: 2021 / Spring – Summer!
Tracklist:
1. The Wolf of Twilight
2. Hour of Ragnarok
3. Conspiracy of the Wizards
4. Children of Hyperborea
5. Following the Azure Light
6. The Three Gifts of the Gods
7. Enlighted by the Wisdom of Runes
8. River of Tears (Bonus)
Tags: Black Metal, graveland