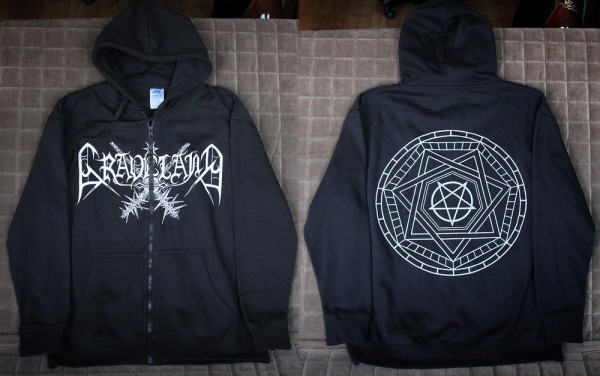 Despite being one of the premiere third wave black metal bands, Graveland have long been excluded from mainstream media and most distros as much for their esoteric music as their rumored controversial beliefs. Now, to work around that blockade, Graveland has opened its own web-store:
Graveland has also announced a split CD with droning fifth-wave black metal band Nokturnal Mortum. The band issued this statement: "After many years of staying as a solo project the time has come for some serious, epochal changes! Again, Graveland will be joined by other musicians that will be supposed to prepare the band for live performances. Working on two Gravleand tracks for the cd split with Nokturnal Mortum will be a little test for the cooperation within the new line-up. On the 7th/8th of March 2015 we have recorded drum section for both new Graveland compositions. The new drummer is no one else than previously announced Mirosław Rosiński (Mystherium, Horns, ex-Moontower, ex-Warfist). You can check the sample from the session below. In April we will record guitars again, later bass and vocals. Anna "Alruna" Oklejewicz also take part in those recordings, she is responsible for chello and medieval viella. Both compositions will be ready by the end of April. One of them will be also used for a video clip consisting of material recorded by Darken in Austrian mountains and forests."
The first wave of black metal emerged out of the proto-black metal movement which appeared with the unholy union of Hellhammer, Slayer, Bathory and Sodom. From that, a second wave emerged in Norway starting with early Immortal, Burzum, Darkthrone and Mayhem. The third wave, led by bands like Ancient and Graveland, showed a willingness to refine this music into a more soundtrack-like and ambient form, going quasi-progressive in song structure as a way of evading assimilation by the rock music hordes. After that came the more mainstream revisitation of past black metal forms with the fourth wave, and finally the fifth wave of bands who reduced it to a form of droning punk music with minor-key motifs and black metal themes. After that, only retro and assimilation have remained.
Tags: Black Metal, graveland, media, nokturnal mortum