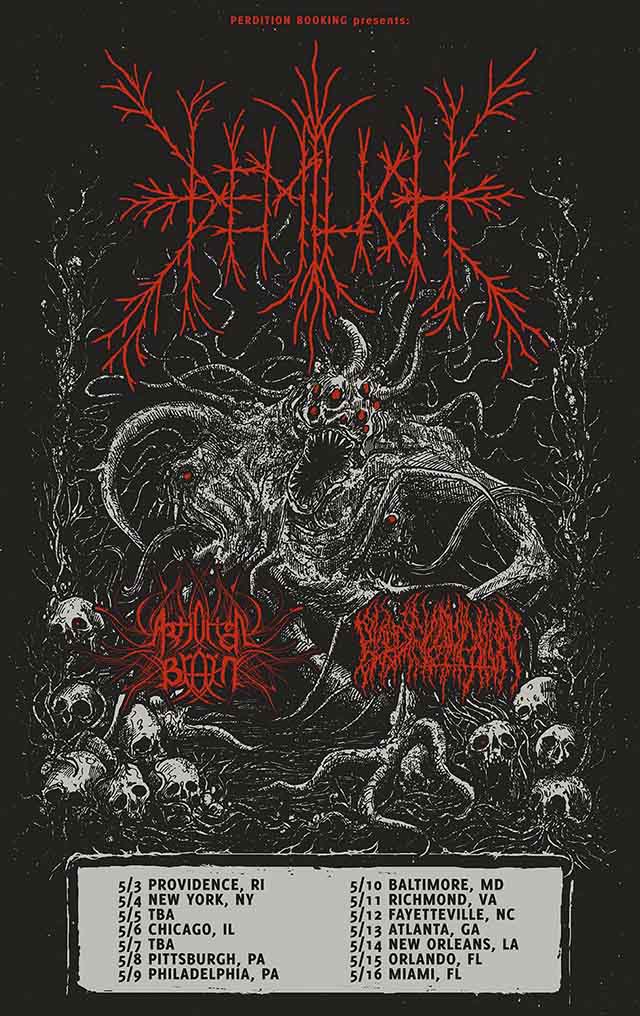 Americans will get the chance to witness one of the greatest and most innovative death metal bands performing live this year when Finland's Demilich hits the U.S.A. for a brief run through the eastern states.  Refusing to record a followup to their 1993 masterpiece Nespithe, Demilich are one of the few bands to stay true to their purpose in an age where most of their peers are chasing the dollar in the age of the retro-death rehash.  Don't let the incoming flock of hipster newbies ruin this one for you- live Demilich is likely the best treat you'll find in a concert venue this year.
May 3: Providence, RI
May 4: New York, NY
May 5: TBA
May 6: Chicago, IL
May 7: TBA
May 8: Pittsburgh, PA
May 9: Philadelphia, PA
May 10: Baltimore, MD
May 11: Richmond, VA
May 12: Fayetteville, NC
May 13: Atlanta, GA
May 14: New Orleans, LA
May 15: Orlando, FL
May 16: Miami, FL
The band is still looking for more dates, so if you want them in your country, state, city, and backyard, contact the appropriate booking agent for the band, which would be Svart for Finland, Perdition for the USA, and the band themselves for anywhere else.
Tags: death metal, Demilich, Finnish Death Metal, good news, live music, tours