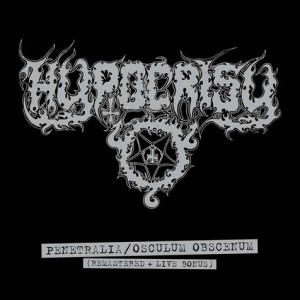 Swedish modern metal band Hypocrisy will re-issue their classic first two albums, Penetralia and Osculum Obscenum, as a CD box set for maniacs who remember when this blasphemous band were death metal.
In particular, Penetralia set the standard for aggressive riffing and an album format that many would follow, in which a series of intensely brutal songs peaked in a more epic song, and then resumed in order to fade out into a more intricate and melodic instrumental.
Hypocrisy also innovated the production of Swedish-style melodic metal, giving it an approach to texture and dynamics that is imitated to this day. In addition, the Hypocrisy band members created a black metal band called The Abyss whose album The Other Side became the template for melodic black metal after the second wave.
While it is great to see these two classics get re-issued, die hard fans are wondering if these CDs will remain in print in some form, and when or whether the material from the Inferior Devoties and Pleasures of Molestation EPs will be reissued, as this is some of the band's strongest material.
Each CD contains bonus material in the form of live recordings of some of the classic tracks featured earlier on the album. As part of the classic death metal revival that started in 2009, this re-issue continues a postmodern habit of honoring the past when our lesser replacements burn out on us.
The box set will be released on July 12, 2013 on Nuclear Blast.
CD 1 – Penetralia (remastered + live bonus)
1 Impotent God
2 Suffering Souls
3 Nightmare
4 Jesus Fall
5 God Is A Lie
6 Left To Rot
7 Burn By The Cross
8 To Escape Is To Die
9 Take The Throne
10 Penetralia
Bonus tracks:
11 Left To Rot (live)
12 God Is A Lie (live)
CD 2 – Osculum Obscenum (remastered + live bonus)
1 Pleasure of Molestation
2 Exclamation of a Necrofag
3 Osculum Obscenum
4 Necronomicon
5 Black Metal (Venom cover song)
6 Inferior Devoties
7 Infant Sacrifices
8 Attachment to the Ancestor
9 Althotas
Bonus tracks:
10 Pleasure Of Molestation (live)
11 Osculum Obscenum (live)
12 Necronomicon (live)
Tags: death metal, hypocrisy