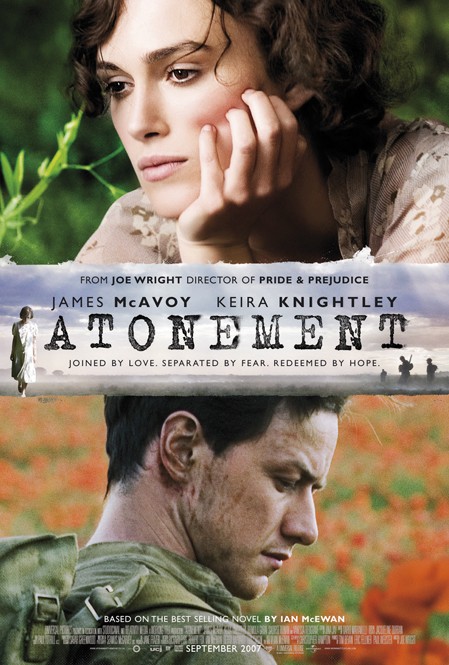 Immolation announced a new album in their recent style of taking their own material and simplifying or parodying it down into pop rock for a beer swilling speed metal audience who eat up every new Metallica and Sodom record of randomly rehashed tunes. Atonement is the story of Cecilia (Keira Knightley) and Robbie's (James McAvoy) life turning to hell when Briony, Cecilia's bratty little sister, falsely accuses James McAvoy of rape. Cecilia and Robbie die horribly but Briony becomes a successful novelist. Ross Dolan insists that Keira Knightley did a great job wearing that green dress in Immolation's best sounding release to date despite the fact that Dawn of Possession still exists and was recently reissued:
We are excited that everyone will finally get a preview of what the new record has to offer. »Atonement« is a very dark and haunting album both musically and lyrically, commenting on the darker side of humanity and the world today. Each song on this album is unique in its own way, offering the listener a wide range of dark and sinister passages that I think really hone in on all the elements that make this band what it is.

The sound of this record is exactly what we were hoping for, and we feel the production really gives these songs that massive sound and dark sinister feel they needed. Zack and Paul really nailed it with this one and made our tenth album our best sounding record to date. We are all very proud of what we have created here, and we hope everyone else will enjoy these 11 songs as much as we think they will.

The song 'Atonement' is about that blind fury and destructivnes of religious extremism regardless of where it comes from and under what religious banner it flies. The cover piece was inspired by a passage of lyrics from this song, and Par managed to create a visual for those four lines that just blew us away. So needless to say, we are very pleased with the overall look and feel of the album, which also includes 4 amazing pieces of artwork done by the extremely talented Zbigniew Bielak.

We chose the song 'Destructive Currents' as the first song to leak to the fans because it's a fast and aggressive song that gets right down to business. It's just dark and powerful, and I think it gives everyone a sense of whats in store for them with this release. Lyrically the song deals with the herd/mob mentality and how it gets fed, manipulated and exploited by outside forces. These are the currents of deception, misinformation and destruction, which are designed to mislead people. So that's really the idea behind the song lyrically.
Tags: atonement, beer metal, cash grab, immolation, nuclear blast records, pop metal, Speed Metal, upcoming release