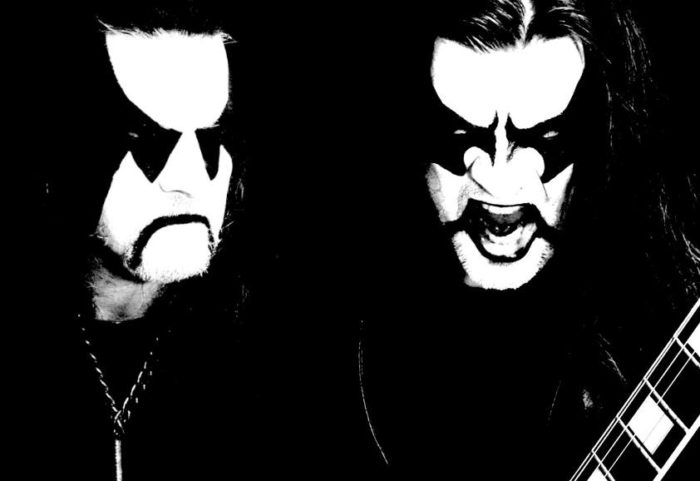 Immortal, i.e. Demonaz and Horgh, have finished writing their new album. Now they just need to record it.
Immortal claim that former frontman and probable Smirnov Ice-addict Abbath pilfered much of the material to make his self-titled, mediocre stadium heavy metal solo album. Immortal also state that the new album will be their lengthiest and most epic yet. Fan should be wary from Iron Maiden's and Judas Priest's unedited, twin CD experiments. Hopefully, the new record will at least be better than the awful All Shall Fall as Demonaz's March of the Norse was. From Immortal's Facebook page:
IMMORTAL has completed the writing of their ninth full length studio album.

– This will be our darkest and coldest album in a long time: pure Blashyrkh metal the way our fans know it, with massive majestic riffs, grim frostbitten vocals and tales from our mighty realm. Fast and furious tracks, epic tracks and longer playtime than any of our previous albums.

Founding IMMORTAL member, lyricist and guitarist Demonaz is now also handling the vocals.
– The massive fansupport has been very inspiring and we will not let down the fans. The last year we have completed all the new songs and look forward to record our most passionate album in a long time. The songwriting process has been awesome and we are soon ready to start the recordings.

In a time when true and origin Black Metal is nearly dead, the band is in ultimate spirit.
– After the last years incidents it was time to go back to the roots to what this band is really about musically, and also to take the integrity of the band back to where it belongs. Cold, grim uncompromising Blashyrkh metal with a true feeling is what we deliver.

From 2010 until 2014, IMMORTAL wrote all the songs for the successor to "All Shall Fall", but when ex- member Abbath left the band in 2014, he changed the lyrics, song titles and recorded these songs for his so called "solo album".
– We had to focus on making a new album nearly from scratch, which is the main reason why things have taken this much time. We are now looking forward to record the new album and present it to all those who have shown their loyalty and support.
IMMORTAL has always been a unique and unstoppable force, and that goes for our fans as well. We will never change our music or attitude.

The album title and song titles will be revealed soon.
Tags: abbath, Black Metal, Demonaz, drama, Heavy Metal, immortal, mainstream metal, news, upcoming release