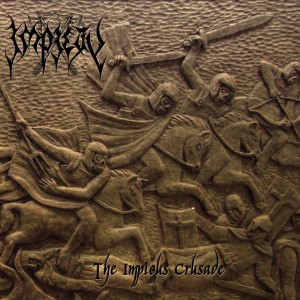 When metal bands tire of the older styles that demand too much sense, they make something frenetic and use over-the-top vocals to tie it all together despite being random; that is why when metal ran out of ideas in the late 1990s it turned to metalcore. With The Impious Crusade, Impiety take this newer style and infuse it with some of the older style, producing something more deliberate than what we normally hear but within the chaotic styles of modern metal.
The result is equal parts late-1990s charging death metal, where riffs fit together in roughly circular fashion and hold together with pure momentum, and part a few experiments with borrowed items including speedy call and response between thunderous power chords and dissonant voicings, lead guitars that race through solos in an organic style reminiscent of early Vader, and Meshuggah-style sudden stop-start complex syncopation over two-note riffs.
The Impious Crusade delivers what makes Impiety great which is pure speed thrills with enough melody and textural context to remain interesting. Although it doesn't reach the textural depth of older death metal, which can still incite some powerful moods, this MCD pounds out a gratifying high-intensity twenty minutes of ripping music that perverts modern metal into something more like the original death metal ideal.
Tags: death metal, impiety, modern metal