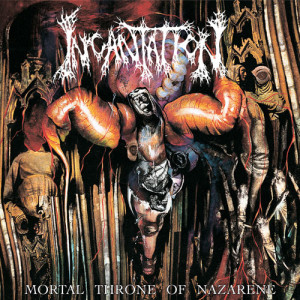 The good thing about the transition to two decades of operation is that a genre may benefit from advances in technology and funding to re-release its classics in restored or originally-intended form. Through this channel a burst of classics on vinyl has emerged over the past five years.
Mortal Throne of Nazarene is Incantation's most controversial album. People either love it or hate it, and a huge part of this is the simple fact that it's impossible to follow up to Onward to Golgotha. That album walks the earth like an ice giant or Norse god, crushing all in its path. How to top that?
Part of what makes this album so controversial was its original production which captured a searing guitar tone but also managed to blend the vocals and guitars to create a stream of noise that often made it impossible to discern chord changes. It wasn't terrible, for the time, but it made it harder to listen to the music under the vocals.
The LP re-issue of Mortal Throne of Nazarene fixes these problems. Not only are instruments clear, but the vocals are also present with great force. Not only that but the warmth of vinyl is put to good use preserving the color of distorted guitar, bass and drums, which fleshes out this album. It does it all without losing volume, making this an intense compacted flow of sound.
As far as the album itself, my supposition is that the controversy will never die. It has its inspired parts and flashes of genius, but large portions of the rest feel incomplete, like they got sketched out but never fully adjusted and shaped to serve at optimal power. Much of those are lengthy chromatic connective passages that seem to repeat where they would have branched on earlier releases.
It's reminiscent of Suffocation's Breeding the Spawn in that way. For confirmation, listen to the Forsaken Mourning of Angelic Anguish EP which follows this album and adjusts details of many songs such that they work together instead of divergently. Several LP songs are on that shorter release at greater effect.
What this re-issue of Mortal Throne of Nazarene will do is to fan those flames of controversy by letting us hear this album with a production on par to that of Onward to Golgotha. This means that with this LP re-issue, the band separate controversy over production from controversy over composition, and let the underground see this album in a new light.
Tags: death metal, incantation