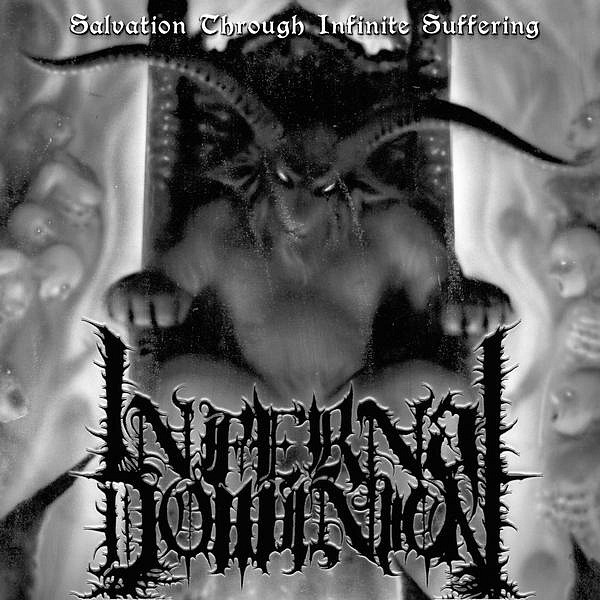 The late 1990s belonged to bands of the Suffocation style of percussive death metal which derived its essential technique, the muted-strum power chord, from speed metal, but worked riffs into mazes with high dynamic variation but consistent narrative in the death metal style. This balance proves difficult to maintain as choppy riffing lends itself too easily to simply circular riff patterns and the resulting patchwork song structures. Starting with Sinister Hate in 1996, the subgenre experienced a revitalization through the injection of melody and the more theatrical song structures of mid-paced death metal. With the rise of Unique Leader bands in the early 2000s, the percussive brutal death metal sub-sub-genre exploded, and into that environment Infernal Dominion dropped its only album.

Salvation Through Infinite Suffering dwells within that narrow musical range but derives most of its influence from bands like Incantation (specifically 1997's Forsaken Mourning of Angelic Anguish) and Immolation, although it applies these within the percussive blasting style. Bands of this era struggled to balance the need for compelling rhythm in vocals and verse riffs with the more fluid and aggressive choruses and other riffs designed to support the developing song structure. Any greatest strength is a greatest weakness, and in percussive death metal the same type of sound that makes it compelling also can take over composition and result in boring songs that repeat too much of the same stuff and go nowhere.
Infernal Dominion interpret this style as having a high dynamic intensity in song structure but built around loops that emphasize the verses and allow vocals and percussive strumming to take center stage. Onto that they add complex lead guitars that while jazz and rock influenced stay out of entirely cloning those styles. Many excellent riffs, some of the archetypes that later appear in guitarist Wes Weaver's more recent band Blaspherian, go into this release as does a violent and compelling performance by the vocalist and other instrumentalists. The challenge remains allowing both influences to breathe, both the guttural blasting death metal that occupies the surface style and the underlying fascination with the darker doom-death and cavernous death metal styles. Sometimes the styles emerge and separate like two heads of a dragon fighting one another, and by the law of compromise the band defaults to the simpler elements.
While Salvation Through Infinite Suffering offers many moments of greatness, it possesses more potential than was ultimately delivered. It relies too much on its great strength, trying to make the vocals lead songs where guitar needs to lead, and then packing too much into each song. As the inclusion of several tracks from 2004 show on this release, over time the band streamlined its material and achieved greater clarity while still keeping the terrifying guttural vocals and perhaps making them even more violent. While this album may have attempted a grand vision that never quite realized itself, in part because of stylistic or personality conflicts in the band, it also provides a grimoire of great musical ideas which await development by future death metal musicians.
Tags: blaspherian, death metal, infernal dominion