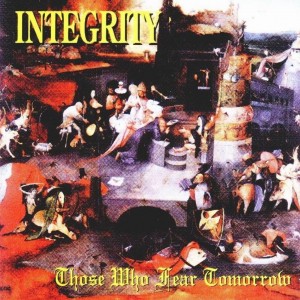 In the early 1980s, punks had a wary attitude toward metal because they saw it as commercializing their music. As I finally get around to hearing Integrity's Those Who Fear Tomorrow, I see their point, although it's not an important one.
Merging punk and metal, Integrity add faster riffing and more complex song structures, as well as lead guitar noodling and a vocal attack that sounds like it is designed to be a more extreme version of the "Age of Quarrel" vocals from the Cro-Mags. It ends up sounding like something Phillip Anselmo could have used as his blueprint for his vocals with Pantera, in that it adds more of the confrontational shouted and chanted vocals and de-emphasizes anything like singing.
Staccato riffing with the choppy-edged sound of muted strum down-picking in the style of speed metal rounds out the package. Integrity likes to add broad spaces in their songs, such they hit with a riff and vocal attack, then pull back vocals and downplay instrumentation so there's a pocket that draws in our attention. It is catchy but its repeated use lessens its effectiveness.
While there is probably nothing to be feared from commercialization here, as it makes for songs with more hook and polish, it is also in a genre different from punk and metal. These songs mostly follow pop song format, are mostly hook, and lose the total alienation of punk and the transcendental imagination of metal. For a hard rock or pop punk listen however, it's a channel of rage that many will find appealing.