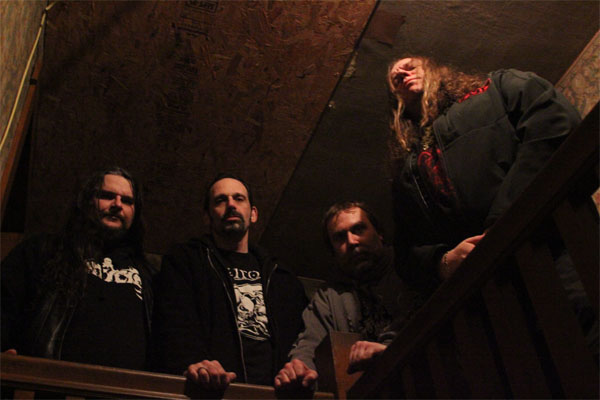 Back in the early days of death metal, it was fun to spin some contrast on the radio. Start out with the phrasal bands like Morbid Angel and Slayer, work up to something percussion like Deicide or Suffocation, then drop into the doom-death. Somewhere in there, Obituary, Asphyx, Incantation, and Morpheus Descends all got displayed.
The latter was a puzzler since it was grim, primitive and primal, yet thoughtful and very distant from the normal everyday lives most people aspired to. It was truly music to keep the listener outside the arc of society's concerns, guilt and manipulations, and for many of us it was deliverance. It blended into the other death metal as if it belonged there, a distinct voice that yet upheld a shared spirit.
Morpheus Descends was thus for many of us a go-to band when we wanted the old school underground sound. Music from beyond this world, it chanted dark praises of outsider viewpoints on reality while crushing our heads with intensely grinding, explosive riffs. It is with great pleasure that after many years, I am finally able to interview Rob Yench/Xul of this massive underground cult…
Morpheus Descends appeared early in the death metal movement. What were you influences, and how did you conceive of the then-new musical style you were creating?
Before forming Morpheus, we were all in local area bands, Ken and I did a Voivod / DBC styled band called "Volitle Zylog", Sam, Steve and Craig were all in a band called "Infectious Waste." During the summer of 1990 we played an outdoor show together with a few other area bands. At the show we were talking to each other about the bands we were all interested in, as it turned out our tastes were very similar. When Ken and I heard "Infectious Waste" do a Pestilence cover we talked with the three of them right after the show and we decided to start a death metal band. A month later the five of us had all quit the bands we were in and formed "Morpheus." Our first practice was on October 31st, 1990. Our style was based on what we listened to at the time, late 80s & early 90s bands like Death, Morbid Angel, Pestilence, Obituary, Napalm Death and our earlier influences like Black Sabbath, Voivod, Kreator and Celtic Frost. Once we became a band and played shows we started to meet other bands who shared the same goals, also playing many shows with our peers shaped the style known as New York Death Metal.
Were you among the creators of this genre? What do you think your contributions were?
All the previous mentions plus so many more helped create the genre but I will limit my scope to the bands that grew out of the scene that we were part of; Suffocation, Immolation, Mortician, Incantation, Ripping Corpse, Prime Evil, Human Remains, Nokturnel, Gorephobia, Deceased and Apparition (Sorrow). I don't really measure what our contributions were to the genre except to say that I think the best reflection of what we have done as a band in Death Metal scene is all the people who still come up to us or still contact us online to tell us how much the band's music means to them. We played a lot of shows in many states and even Mexico from 1990 – 1997, so I think we reached a lot of people in a time when Death Metal was "electric".
I noticed that Suffocation seemed to have quite a bit of influence from Morpheus (Descends), with Terrance Hobbs wearing a Morpheus t-shirt on Effigy of the Forgotten and using one riff that seems similar to one of the riffs on Ritual of Infinity. Do you think you influenced Suffocation? Who else do you think you influenced?
Both bands were very good friends in the early 90s; we played our first show with them in Buffalo NY. After that it seemed like every weekend for a while, they either drove to our hometown to hangout or we drove to Long Island to hang with them. We would share ideas and jam with each other and show one another riffs and songs we had been working on. I think we are about as much an influence to Suffocation and much as Suffocation was and influence to us. The same things could be said for a lot of the other death metal bands from NY around that time too.
They're talking about a "big five" of death metal bands doing a tour. Why do you think Morpheus Descends isn't out there? What makes a death metal band popular more than others?
First and foremost I think the more popular DM bands of our era were signed to bigger labels (EARACHE, ROADRUNNER, NUCLEAR BLAST, METAL BLADE). We worked with a much smaller, less successful record label (JL AMERICA). With more promotion, bigger distribution and record company help; they also landed US and European tours. We did do some touring but not to the extent that a lot of those bands got to do. So they were much more accessible to fans in a time before the internet was so popular. We did EVERYTHING ourselves, touring, merchandise and even pressing. Outside of JL releasing the CD it was all 100% DYI.
Can you tell us the story behind your name change from Morpheus to Morpheus Descends? What happened to the other Morpheus?
JL had RED for distribution; they got a call that from RED that they wouldn't be able to distribute the Morpheus CD because they already had a band of that name in their catalog. This band was some "gay" techno band, we did try to fight it but JL basically told us change the name or it will not be released. We had always planned to write a song called "Morpheus Descends", so after some discussions we made the name change and never looked back.
You signed with JL America for your first album, which ended up being a rough path. What happened there? How would you do it differently if you had to "do it over"?
Well since NO other labels had any serious interest in us, it was a good choice. We got our music out to a lot of people that we would have never reached doing it ourselves. It may not have been exactly the record deal we were looking for but at least people saw the CD at stores and bought it. This is part of the reason for our notoriety today; you could buy the CD in most big record store chains at the time. Also it was distributed overseas as well. As far as doing it differently, it would have taken a better record label to have stepped and worked with us, which didn't happen so there is no regrets when it comes to our history.
One of the things that stuck with me from Ritual of Infinity was the formal language you used for the titles. "Proclaimed Creator," "Enthralled to Serve," and "Ritual of Infinity" set a standard which other bands especially in New York aspired to. Where did you get the idea to write song titles this way?
Many of the songs you mention, we came up with the song title first; then we would talk about the concept of the lyrics; then Sam would write the lyrics around those ideas. I think that is why the titles sound so "formal", we wanted the names of the songs to provoke interest in wanting to hear the songs. We stayed away from the simple titles of blood and gore and concentrated on making the titles and lyrics more interesting to the listener.
Is "Accelerated Decrepitude" a reference to Blade Runner? Were there other non-musical works that influenced you greatly? What about non-metal bands?
No, Blade Runner was not really an influence for this song. Progeria, the rare genetic condition that produces rapid aging in children was really the thought when we wrote the song as well as the artwork we used for the demo of the same name. Our take on it was that at birth the infant was already a century old, ancient and decrepit. I do not really think any non-metal bands are an influence to us, but we did listen to a lot of Wesley Willis when we traveled.
After Ritual of Infinity, Morpheus Descends came out with two very powerful EPs, Chronicles of the Shadowed Ones and The Horror of the Truth. Each of those had its own character. How do you see the band as changing during that time?
Yes, each MCD has a distinct sound and each time it was a reflection of the lineup at the moment and direction we would move in. We wanted to distance ourselves from a lot of the saturation of death metal bands of the mid 90's, many were all using the same template as successful bands but really lacking their own identities. Chronicles of the Shadowed Ones was the first time we had time in the studio and did not have to rush ourselves; we developed a lot of ideas and had a real good time creating the music. It was also a transition time in the band; Sam and I became the main song writers and that is why you hear such a difference in the music. This music became much darker and doom laden than our previous endeavors.
When it came time to record Horror of the Truth more changes occurred; we had parted ways with Jeff our vocalist as well as our second guitar player Brian. Tom Stevens had recently joined the band as the replacement to Brian Johnson and then filled the vocal spot as well. So now the band had a different configuration and we went to Cleveland to record with our longtime friend Brian Seklua. The songs on that MCD were much faster and contain furious guitar solos; this was in contrast to the style of Chronicles of the Shadowed Ones. This would be the last recording we would do together as a band and I think the release didn't get the exposure that it deserved. This was all shortly before the band disbanded, I would have liked to have seen where we could have gone with that lineup and sound.
Do you have any current plans for resurrection, touring, recording, etc? I see you're set up for Martyrdoom Fest. Who's in the lineup, and what expectations/hopes do you have?
We are taking things slow, things feel real good in rehearsals and it is sounding like Morpheus Descends should sound. This is very important to us to deliver what the band should sound like and to do justice to the legacy the band has become to Death Metal fans around the world. The lineup is the 4 of the original members from the MORPEHUS 1990 inception lineup. Sam Inzera, Rob Yench, Craig Campbell and Ken Faggio, Steve Hanson was not able to be a part of the reunion. Steve lives in Florida and when we started talking about making this happen we called him to see if he would like to be a part of this "return." As much as he would have liked to do this, the distance is the real hurdle to work around; Steve did give this his "unholy blessing" and wished us the best!
After Martyrdoom, we are planning to work on some new songs for possible 2014 EP release. We have already exchange riff ideas and it sounds very Morpheus Descends!! Also there is a possibility in 2014 for more shows too but nothing confirmed as of yet.
What do you think of the state of death metal now? Is it fair to divide death metal into "old school death metal" and "modern death metal," which is the term people use for the new style which has hardcore breakdowns, prog-math-metal riffs, and lots of sweeps?
There is a distinct difference between the two types of Death Metal you speak of; I myself am not really a fan of the "modern" death metal sound. I prefer what I grew up with and what feels comfortable to me. This is not meant to be a "dis" on this style but it is just not for me.
In your view, what are the bands who really shaped death metal into what it was, and what does death metal stand for? Does it have something to communicate, or is it just slightly weird music?
Cannibal Corpse, Morbid Angel, Death, Entombed, Carcass and Obituary would be some of the best known pioneers of the genre. As far as any deep meaning the music, I think each person has their own interpretation of what this means to each of them. For me it has been a way of life, family, work and Metal !!
Do you have any plans to re-release your older material?
There are plans in the works for some really cool stuff, but I will bite my tongue for now until things are more solid than at the moment. We want everything we do to be of quality and something that would be fitting in any MD fans collection!!
Members of Morpheus Descends have gone on to form a number of projects, including Mausoleum. How do these differ from Morpheus Descends, and do they reflect things you learned from the Morpheus Descends experience?
I play in four bands; Morpheus Descends, Mausoleum, Engorge and Typhus, Sam has Morpheus Descends, Mortician and Funerus. Ken does Morpheus Descends, Rooms of Ruin and Cabal 34. We have also done session work and played in a few other bands too but you see we are very immersed in Metal!! The bands we do are all different than Morpheus Descends, but what has been learned by me is to work with people and let each person express themselves and have input in all aspects of the process. Morpheus Descends was the "boot camp" for knowing how things work and what doesn't.
How were the songs on Ritual of Infinity composed? They're like mazes of riffs. Did you start with a riff, or an idea, or a story, or an image? How did you compose these mind-twisting tunes?
This was a time in the band when everyone was throwing riffs out there, we just kept sewing the riffs together and making things work and it ended developing into a style where we rarely returned to a riff once it was played in the song. When I listen back sometimes, I hear some riffs and I think "wow we could have done more with this riff!!" All in all though this is what helped made us unique.
What do you listen to currently?
OK here is what is in my playlist as I am doing this interview Repuked, Anatomia, Scaremaker, Iron Maiden, Saxon, Motorhead, Manowar, new Mausoleum songs, Deceased, Sadistic Intent, Slayer, Nekrofilth and Midnight !!
Thanks, Rob, and good luck in the future with all of your bands!
http://www.youtube.com/watch?v=06uNofaxjSQ
Tags: death metal, morpheus descends