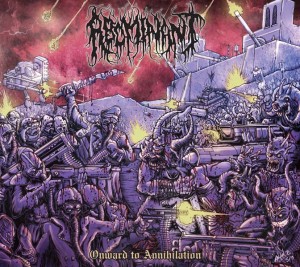 Kentucky death metal band Abominant recently released its tenth studio album, Onward to Annihilation, in a style of death metal we don't see much anymore: fast, melodic and yet riff-based and chaotic. This band is well-known in the underground, having released albums in the 1990s on feral label Wild Rags and toured across the country.
Onward to Annihilation shows Abominant nurturing the style that kept them going back in the 1990s, which uses fast riffs in complex patterns but always returns to a triumphant chorus which outlines the purpose of each song. The trademark Slayer-ish fast guitars and Dark Angel-styled drum breaks are also present.
You can hear Onward to Annihilation below in an exclusive live stream provided by Clawhammer PR and Abominant. It takes just a few seconds of your time to sample and explore this dark work of twisted death metal. (Your browser will show only the OGG files if Firefox, but both sets if Opera, Chrome or IE.)
In a time when the music industry is in upheaval, and most bands are changing styles and outlooks in order to chase the trends of the day, it's gratifying to see some bands remain constant and constantly improving themselves. We were lucky to have a few moments with bassist Mike May, who was able to fill us in on all things Abominant, including the past and plans for the future.
For starters, I had to do a double-take when I saw that Abominant is on your 10th album. How have you managed to stick together as a band, face adversity and still enjoy what you're doing after all these years?
We just don't know how to do anything else? We are all just fans and friends that love to play metal and love to do it together. Some guys work on cars or hunt or play fantasy sports. We write death metal songs, simple as that.
I don't think anyone in the band has any delusions of being famous or changing the world musically. We just like to drink beer, have fun and play death metal.
Pretty much by choice we never miss a practice and if any of us do, our week just seems less fulfilled. Whether anyone likes us or not, or if we ever put out another CD, I think we'll still be getting together to do what we do.
Can you tell us how Abominant formed and what your influences were at the time? In other words, what inspired you to become Abominant and
how did you come together?
From say 1990 to 1993 Tim and I were in a band called Sarcoma. Mike and Jim had a band called Cataclysm. Also ex-members Buck and Craig had a band called Effigy, which were all the death metal realm.
All of those bands eventually fell apart and the six of us were pretty much the diehards that wanted to keep it going.
Worked out for the best in the long run. Weed out the weak and whatnot…. I was a big fan of the other guys' bands prior to hooking up with them as well.
Overall I'd say alot of our main influences are shared in the 1986-1990 transition from thrash metal to death metal. Bands like Possessed, DarkAngel, Sacrifice, Bloodfeast, Kreator and so on really were happening at the time most of us were learning to play and we all still listen to that stuff pretty religiously.
I will say that as time rolls on we still get influenced even up to today, and no secret that black metal has come into the fold much more since we got Jim in 2005. We all listen to alot of different styles of metal, and its not like we love EVERYTHING, but it is very cool to be have extended conversations about which era of Darkthrone is our favorite and ten minutes later we're talking about the new Candlemass while we listen to old Scanner cds. Variety is the spice of life.
Is there a "Midwestern sound" to death metal?
As a fan, I'd almost relate it to the "Chicago" sound. Bands like Master, Cianide, Macabre, Deathstrike and some outside Chicago like Repulsion and Impetigo is what I think of when you talk about "Midwest" sound.
It seems kinda true that most metal comes more from the burbs and bored teenagers rebelling against the middle class life than coming from inner city areas where punk and hip hop seem to have deeper roots, so i guess maybe thats a factor.Both Mike and Jim are natives but I was raised in Denver and Tim was born in Thailand, so i think our location has very little to do with our sound.
Do you consider yourselves a death metal band, or have another take on it?
Personally, Yeah… I would call us death metal, although by "scene police" standards, we would be called more "black death" which is also fine. Since we started, it seems that the death metal name has been leaning more toward ultra brutal bands, which i think usually end up being heavy on the DEATH but light on the METAL, which is sad. But I mean younger bands were introduced to Cannibal Corpse/Suffocation as their starting point in the same way I evolved from KISS to Sabbath to Slayer, so i cant really even blame them, its a different time, you know? We were kind of using the term "Goat Metal" for the longest time to blur what exactly we were doing, but in the end as long as it includes the word METAL, I think we're fine with whatever.
Your songs show wide-ranging influences from within the metal genre. Is this a deliberate attempt to include the whole genre, or is this the product of your many influences? How have those influences changed over the years?
As I said, we all go all over the map as far as listening to metal goes, and I feel that every genre has its merits, but it also seems every genre is cluttered with mediocrity too.
As far as writing different styles, we just don't want all of our songs to be the same and variety is also one of the things that keep us going. Not everything always works but at least we try stuff and dont want to limit exactly how an Abominant song is supposed to sound.
If you're talking mainly about "Hold your Ground" from the new album, we had been playing "The Mob Rules" live for about a year after Dio died and ended up recording it for "Battlescarred". After having so much fun with it and feeling so natural about it, I think we all wanted to take a shot at a straight up "Heavy Metal" song. I think it came out terrific and think if we set our sights on it, we could do a whole album in that style.
We have a new song that is kinda similar although a little more Mercyful Fate in style and I love playing that one.
I will say that we all really love blasting and fast Slayer headbang parts so I dont see us playing traditional heavy metal full time, but it is alot of fun, especially live.
How do you like working with Evan and the DeathGasm Records crew? (Did you have to explain what a "DeathGasm" is to any family members…?)
Working with Evan has been great. He stepped up right after Wild Rags and I had known him long time before that. He's always supported what we do. I think our first album together Ungodly (2000) was pretty "next level" both for us and for him as a label, and what a way to start out!
Evan has booked us shows in Marietta and we've stayed at his house, so it really is very much a friendship. He knows what we're going for and even what other bands we like so we just really couldnt be much happier. I also like alot of the stuff he puts out like Nominon, Manticore, Avenger so its its a good fit for Abominant overall. We havent had alot of backlash from the label name…personally, I think it sounds cool.
When you recorded "Onward to Annihilation," what technique did you use to get your guitar sound? Have you changed much in how you produce albums since the last nine?
I know most of the guitar was a PRS going through a brand new Peavey head, but aside from that , you'd have to ask Tim.
He gets new stuff just about every six months it seems, so I would be surprised if ANY of our albums used the exact same equipment.
After hooking up with Scott at Velocity things really have just become more laid back and also more practical for us. Scott is a death metal guy, a hell of a drummer and inspires to be a great studio guy, which I think he is.. but I imagine 10 years from now he will be a fucking guru. Nothing negative to say about working with him at all, wish he was doing this in 1996!
Are you going to tour for this album?
Naw, as we get older and have families, touring just doesn't work for us. Responsibility is our downfall :)
I wanna say 2008 we did like 24 shows, and that was our most ever, but we normally like to play out only around 8 -10 times a year.
We are all kinda reclusive, and I personally hate hanging out in bars, so I don't guess we'll ever get to be road warriors, but I like to think we are pretty solid when we do play live.
If you're fans of the old underground, does it still exist? Who's keeping the flag flying these days? Bands, zines, labels, etc.
I like alot of the more METAL death metal bands like Sathanas, Gravehill, Ares Kingdom, Cardiac Arrest, Mausoleum and so on (old guys I guess!) but even locally I think most of black/death bands here are putting out releases in 2013 or just did in 2012. So there still is stuff going on, but I dont know if theres much of a fan base for it.
Some of my favorite records are the newest releases from Immolation, Asphyx, VoiVod , Absu, Darkthrone, Autopsy and so on, so I dont go by the "only stuff in early 90s" like some people do.
Hells headbangers seems to be doing quite well and releasing cool stuff, and I like most of what Dark Descent puts out as well.
Where do you think Abominant will be when album 15 rolls out?
We average about two years for a record, so I'm guessing we'll all be pushing 55 by our 15th album!
As it seems now, doing this for another ten years seems pretty viable and realistic, and barring any tragedy and/or line up shifts, I for one am looking forward to it! You can purchase the album for $6.89 here!
http://www.youtube.com/watch?v=hC6feSmom3A
http://www.youtube.com/watch?v=GPwLppaGe04
http://www.youtube.com/watch?v=hn2Xo4t2iRM
Tags: abominant, death metal