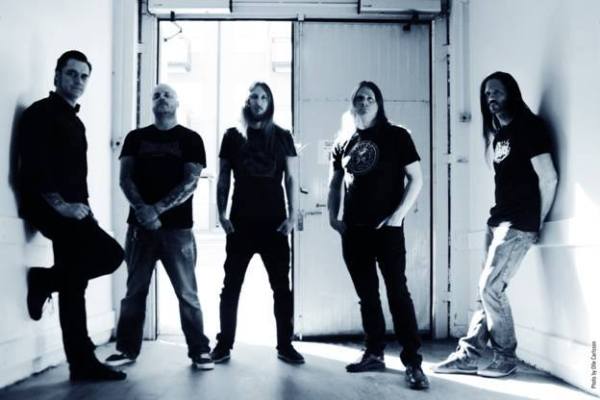 Back when At the Gates called it a day for the first time, a new band and a new sound emerged in metal. This hybrid mixed the late hardcore style of random and chaotic riffing with melodic metal and grindcore intensity, creating what most called "metalcore" with overtones of "math metal." Unbeknownst to the band at the time, the entire industry followed their lead.
Almost two decades later, The Haunted return at the same time At the Gates is making a bid for return, and many remain curious as to how this band will continue its own evolution and contribute to the future of metal-punk hybrids. We were able to get in a few words with Adrian and Ola of The Haunted, thanks to Century Media's Nikki Law.
The Haunted is returning with a new album and what seems like a new direction. Is that so? How does what you're doing now compare to your previous album?
Hi there. Yes the new album definitely showcases a new style for the band. Its a return to our thrashy roots in some ways, but rather in a more modern version than what we were doing on the first few albums. It doesn't really compare to Unseen. its just so far removed from that album on so many levels. Not strange though cause it was in sense a very different band with a different outlook and approach to what we are today.
The Haunted is widely credited with establishing metalcore, the style that took post-hardcore style composition and added in metal and melodic metal riffs. What is metalcore? How did The Haunted contribute to it?
I really have not got any clue about these genres. We just play the stuff that we like to listen to and the kind of tunes we like to play. Categories are really for people that needs to file music into compartments… For us they really are not that important.
Ola, you are in Feared as well, a band that sounds like Pantera performing Metalhead as performed by a deathgrind band. What influences your sound in Feared? How much of that will you bring to the new The Haunted record?
I keep my ideas separated; it's clear to me when I start writing a song if it will be a song for the Haunted or for Feared. When I write songs for the band they were written a bit from a fan perspective initially before I started finding my role in the band. I bring youth and aggression to the outfit.
It's impossible to discuss The Haunted without mentioning At the Gates. Why do you think At the Gates was so influential? What part of that sound lives on in The Haunted?
I really don't know why. I guess it was a combination that we did what we wanted and did it with a lot of conviction. What we did hadn't really been done by that many at the time when we did it… And then we disappeared. That's what I think made it such a hype. My playing in The Haunted is way more open than what I do on the drums in At the Gates. When you hear the new At the Gates album i think you will be able to understand what i mean.
Adrian, you were in the original At the Gates lineup and founded The Haunted. How did the final At the Gates album, Slaughter of the Soul, contribute to the The Haunted sound?
It didn't contribute at all. The Haunted was formed by Jensen and me the day after At the Gates split up and we wanted nothing to do with the last At the Gates album at that time. It was a fresh new start with brand new influences. I guess that the last At the Gates album contributed in the way that we knew how we didn't want our new band to sound…
Slaughter of the Soul seemed like a break from the traditional At the Gates sound, and less death metal than a modern take on the melodic speed metal of Ride the Lightning or Don't Break the Oath. Were those influences?
Slaughter of the Soul was influenced by a lot of different albums but mainly by the hardship and legal shit the band when through during the touring for Terminal Spirit Disease. We were so filled with aggression and wanted to make a full on album, a condensed more direct album than its predecessor.
How do you think The Haunted has changed death metal, and what is the nature of this change? Are the old school days dead, or did all of these genres (death metal, hardcore, speed metal) sort of merge into one?
Metal has merged in so many different ways and bands are combining different styles left right and center. I have actually stopped paying attention. My favorite metal albums are mostly from the 80s and early 90s. For The Haunted, we will continue mixing the different influences we have collectively within the band, play and write the kind of stuff we like regardless of what the style its called.
Ola, you have also played in Six Feet Under. How is it different to play in a Tampa-style band from a band like The Haunted?
Six Feet Under was pure death metal whereas The Haunted's back catalog has so many different aspects to the playing and songwriting. I enjoyed Six Feet Under as well as shaping the future with The Haunted.
How does The Haunted write songs? Do you come up with riffs and then put them together, or use Jenga or another type of puzzle to make them all fit together, or is there some secret alchemy (numerology, occult symbolism) that explains these riff-mazes?
The songs are sometimes a contribution by one person that writes the whole thing. Sometimes they are a combination of someone's verse and someone elses's chorus and intro riff. There is no fixed formula. If the songs that takes shape is good then its a success.
You've got a new lineup and a new start as The Haunted. What do you hope your music will communicate, and how are you looking forward to sharing this with fans on tour?
There was no deep hidden meaning in the creation of Exit Wounds other than huge "Fuck off, we are not dead! Here we are and we are heavier than we have been in years!" Come and see for yourself at an upcoming gig! It will smoke you!
Thanks again for your support and hope to see you on the road!
Tags: At the Gates, death metal, melodic metal, metalcore, Speed Metal, the haunted