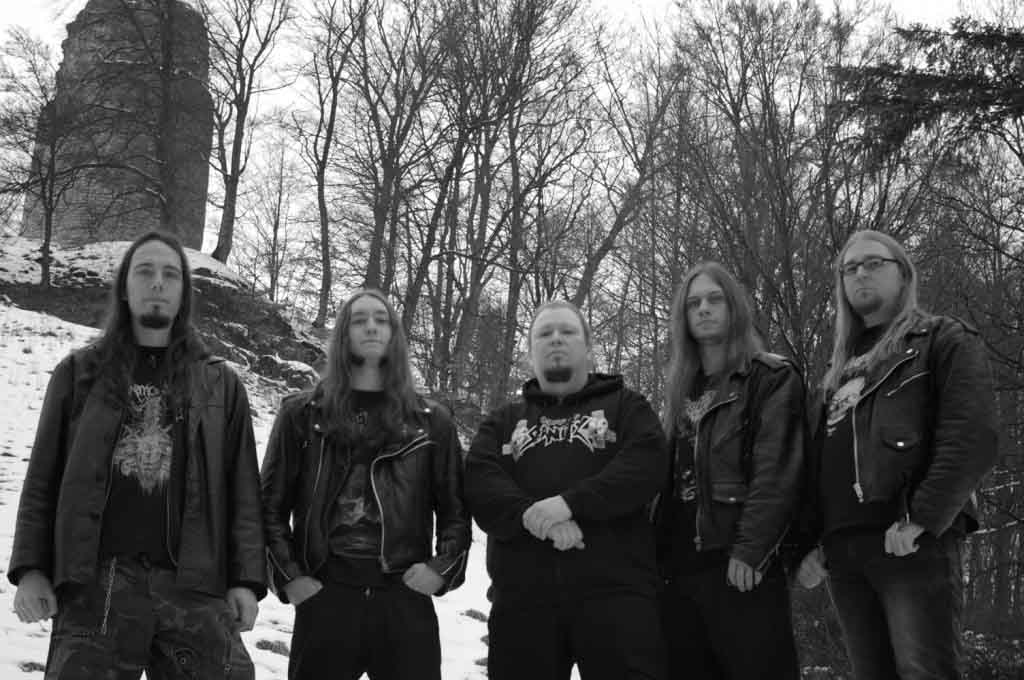 Revel in Flesh brought their high-intensity Swedish style death metal into the light and terrified the meek with onrushing riffs, hints of melody, uptempo choruses and savage vocals attacking from the wings.
Although this band hails from Germany, they are full-on metal maniacs in the style of old school death metal. This makes them a rarity since they've avoided both becoming candy-retro and slipping into the "modern death metal trap" which involves intricate songs about nothing.
Instead, Revel in Flesh keep slashing out the vintage-style Swedish death metal and in doing so, keep the metal flame alive. We were lucky to catch guitarist/vocalist Ralf Haubersson for a quick interview.
What do you think made Swedish death metal exceptional?
Hi Brett and DeathMetal.org diehards! I can speak only for myself, but I think the Swedish way of classic Death Metal transmits more emotion and energy. It's not about the technical path, but the massive saw-like guitar sound gives a killer boost. Raw energy, but also dark intensity. Just take a listen to some of the Sunlight Studio classics from back in the day and you'll be captured by that special feeling. It's a special sound and style; it's a love-it-or-hate-it thing!
You're a German band making Swedish death metal. Since bands all over the world make Swedish death metal, this leads me to ask: what about this style drew you to it?
Well, to be honest with Manifested Darkness we didn't have the agenda of sounding as Swedish as possible. The thing we have in common with the classical Swedish output is the use of the HM2 distortion pedal and the five half–tone downtuned guitars. If we might play another "sound" we won't sit that much in the IKEA category, Ha! Ha! I see REVEL IN FLESH as a band that is truly dedicated to the roots of classic Death Metal. Simply the way we grew up with in the 90s. For example on the new album we've done covers of DEATH and AUTOPSY as bonus tracks. Without those two masters of the genre there wouldn't be any Death Metal in the way we hear and love it today. But about your question: We do not (!!!) deny our roots, but I think we try to add an own sort of charm to REVEL IN FLESH since you do not need another copycat band nowadays.
Your style of death metal is stripped down and more rhythmic than noodly or math-riffy. Do you think this is a newer type of death metal, like new school old school as in on Immolation's Majesty and Decay, or is this how death metal always has been?
I do NOT (!!!) like this kind of "math–like" feeling in Metal. I think Death Metal has to give you a kick for some serious headbanging. It's about delivering emotions and energy; not about showing egoistic bullshit on your instruments. I think it's ok, when songs have some kind of depths and things to discover, but on the other hand –- especially today with a thousand releases a month –- it's important that you have some first hand catchy moments, that rips into the ears of the maniacs on a first contact.
About taste: My fave IMMOLATION record is and most likely will always be Dawn of Possession; love all aspects of that album –- starting from cover, sound etc. — so I guess you easily figure out my taste in Death Metal, Ha!
What bands do you draw from as influences when making your music? There seem to be three influences: Swedish death metal, melodic heavy metal style death metal, and someting like Motorhead. Is that true? Do you have influences from all three, or is this me projecting?
Speaking honestly you've been one of the first writers that mentioned MOTÖRHEAD in an album review of us. I don't think that we have a sort of "Death 'n' roll" style like ENTOMBED had on some of their records; but in the end it doesn't matter how people categorise our album; it only matters if it's good or not, but most of all REVEL IN FLESH is under all aspects a Death Metal band; but of course you get influences and inspirations from all kind of stuff; but we don't think that much about it. We simply do it!!! For example my comrade Maggesson does a lot of songwriting also for his other band DAWN OF DREAMS and throughout the years you acquire your own style in melodies and arrangements; you always hear your own basics in riffing etc. Shorty said we do not have one blueprint of influence, but I think it's not a secret that we stick to our roots in the classic Death Metal way.
Do you think old school death metal has come back to stay?
Within the Metal genre everything comes and goes and COMES AGAIN!!! Today there's a lot of hype on the "old school" matter; maybe this will change again sooner or later. Personally I see it like this: Good music is meant to stay forever. For example: I remember being at an age of 14/15 when I got "Like an Ever-Flowing Stream" by DISMEMBER in my hands for the first time. It was like WOW!!! Today I still have that WOW feeling, when I have that album spinning rounds in my stereo –- it's timeless and I think that also in the years to come there will be a dedicated sort of fanbase to this kind of subgenre of Death Metal, as you might know: Evil never dies!
One-half of Revel in Flesh came from Immortal Rites (now deceased). What did you learn from that experience, and why did you move on?
Well; actually I'm the only REVEL member that has had a backround in IMMORTAL RITES. I played in IMMORTAL RITES from circa 1996 – 2011. We did two longplayers and one demo CD. I formed a lot important impressions in this period like first gigs, first real studio experience, friendship, parties etc. –- throughout the years we've played single shows with bands like UNLEASHED, GOD DETHRONED, DISSECTION, DISBELIEF, DESASTER and many more. The band fell apart due lack of time and motivation of the other bandmembers; mostly caused by normal circumstances in life like marriage, children, jobs & career. I've continued because I love METAL and I also like the aspect of being creative in that way within that scene. It's a passion and it prevents me from going berserk in the shit caused in daily life. Musically IMMORTAL RITES had a more melodic and mixed style of Death Metal, but deep in my fan heart I always wanted to a totally pure and classically inspired Death Metal band under all aspects like sound, arrangements, lyrics & artwork. It took me many years, but REVEL IN FLESH is to me the band I always wanted to have; so in some way it's good to be Metal retard, Ha! Ha!
What does Revel in Flesh have that the other situation did not?
Heart, passion and bloody dedication!!! Writing music with Maggesson is like a real flow; it feels pretty good. There's not much discussion; we simply let the things flow and see what happens.
How do you create your version of the legendary Swedish style distortion? Did you use any other production techniques in making this album?
As I've told you already; we use the classical Boss HM2 distortion pedal like all the Swedish bands do as well. We experiment a lot with the guitar sound at VAULT M. Studios, which is owned by our guitarist. We also got some healthy advices by Dan Swanö (EDGE OF SANITY etc.) as well. He's our man for that kind of sound. The particular rest of our sound/production will be kept as a secret!!!
What is it that appeals to you about death metal? From a financial, social and political standpoint, you'd be better off making dubstep.
Yeah! Death Metal won't get you laid, Ha! Ha! Man, we simply love this particular style of Metal with total dedication. 3 members of REVEL IN FLESH are already in the age of 30 +, so this ain't a youth sin anymore. We listen and support this music with all aspects for many years and YES, it's most certainly NOT (!!!) about money. Death Metal is financially a minus business under all aspects; if you play this style you simply havwe to like it from the heart!!!
Revel in Flesh has only been active for three years, but has already put out two albums. How do you write and record so quickly?
To outsiders it might look like we have a sort of rush; but it's not that way. After finishing Deathevokation in January 2012 we've had a real flow on songwriting and wrote and recorded 14 tracks within 11 months. Of course it was a lot of work and time consuming stuff, but it felt more like enjoying what we do. Simply a good feeling. We usually write and record directly at VAULT M. Studios, it's a totally productive way. So far (!) we have not been a conventional rehearsal room writing band; but this may change with the input of the other bandmembers in the future. Time shall tell!!! We simply do what we like to do and don't think in any sort of competitive or business way.
Please tell us what's ahead for Revel in Flesh. Will you tour? Human sacrifice? More recordings?
Yeah we will play with MOTÖRHEAD and ask Lemmy about his opinion on your review, Ha! Ha! I'm just kidding…We have several weekend shows within Germany already scheduled and we will do a sort of minitour inside Germany with Swedish PUTERAEON. It's currently in booking process. Some festivals like DEATH DOOMED THE AGE, NRW DEATHFEST etc. are booked as well. So far we never played outside Germany, maybe this will change with the new album.
There are plans for two split Eps as well in 2013; simply keep yourself updated on REVEL IN FLESH by checking our pages at http://revelinflesh.jimdo.com/.
Thanx Brett for the nice chat and all the support for REVEL IN FLESH on your webtomb. Drink beer & listen to real Metal!!! HAIL THE DEATHCULT!!!
Tags: death metal, interview, revel in flesh, Swedish Death Metal