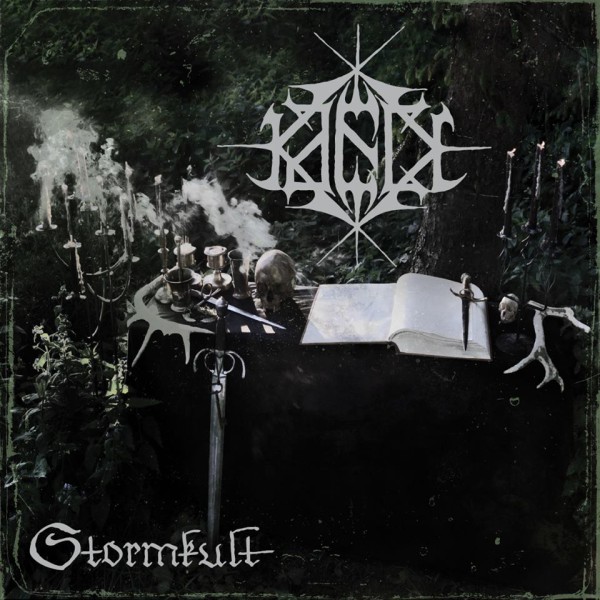 Kaeck — a collaboration between members of Sammath, Kjeld and Noordelingen — introduces itself to black metal at a time when the genre has lost the momentum of two decades ago and replaced it with primitive but mostly uninspired, very similar music. Of that music, the clear forerunner is war metal, which takes the extremity of black metal to new heights but simultaneously reduces it to sawing high-speed chromatic riffs like later hardcore punk. Gone are the epic melodies and entrancing adaptive song structures. Through this, the techniques of black metal outlive the genre.
Combining the raw intensity of black metal, the odd vocals of pagan metal, and the melodic understructure of early 1990s black metal, Kaeck produces a high-intensity blast that resembles a more technical version of Blasphemy fused with early Immortal and Isengard. Where Zyklon-B created high-intensity black metal around simple melodies, and Dawn used constant melody over raging war-drums, or even Impaled Nazarene shaped songs from simple riffs rounding out into melodies over high-powered percussion, Kaeck keeps the melodic center to songs and uses it as a flavoring to otherwise savage riffs, but lets songs structure themselves to fit the melody. On top of this, vocalist Oovenmeester layers epic vocals that resemble those of Isengard, Storm or Mayhem "Life Eternal," using these to produce both texture and melody to complement the raging guitars and resonant melody.
With that as the basis of its style, Kaeck varies the formula across the album, with each song being its own chapter with a different approach, but crafted admirably within the same consistent style to give the band a unified voice. Fast mid-range power chord melodies over blasting drums, in the Immortal Pure Holocaust style, give Stormkult an otherworldly feel that quickly descends into untamed rushing chaos and then emerges on the other side as a complementary melody. Keeping energy high, and using bass and guitars as a lead phrasal instrument over drums which frame them with less chaos than Immortal but a more flexible structure than most black metal bands short of Sarcófago can handle, Kaeck slashes out anthems of the abyss with a silver lining which suggests a divinity of thought in animalistic, irrational and feral assertion of the nature within. The result takes the best from war metal and fuses it with the best of classic black metal, creating the album we might have wished for when desiring Zyklon-B to be more complex or Dawn to be less drenched in melody as a technique.
Coming from a merger of the New Wave of Dutch Black Metal bands such as Kjeld, whose Skym roared up the black metal charts but features less internal variation in the style of Dawn with more varied riffing, and Sammath whose Godless Arrogance paid tribute to both Immortal and the most savage members of the black and death metal pantheon, this approach develops a consistent sound for these bands: old world melody, new world violence, and a fusion of the two that delivers both emotional and visceral satisfaction. Stormkult creates a world of its own and then soars above it like an avenging spirit crossing through the clouds before the sun, then allows its inner being to expand without indulging in any extraneous material. With this approach, and songwriting that taps into the melancholic rage and alienation coupled with a warlike desire to set the world right that defined early black metal, Kaeck stands poised to conquer much of the black metal world.
Released via Folter Records on August 28, 2015. Hear streaming track "De Kult," exclusive to DeathMetal.org, streaming here.
Tags: Black Metal, folter records, kaeck, kjeld, noordelingen, Stormkult, War Metal