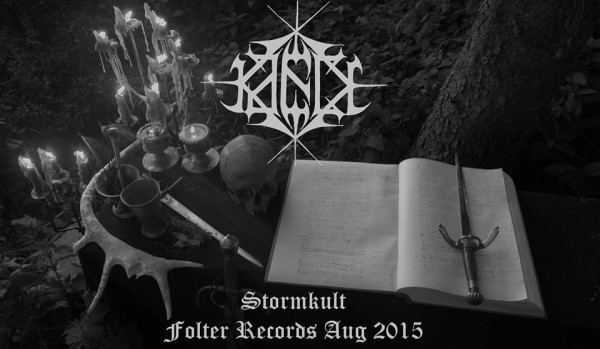 War metal/traditional black metal hybrid Kaeck will unleash their first album, Stormkult, via Folter Records on August 28, 2015 worldwide. The band, comprised of members of other Dutch black metal acts, creates a sound like older extreme acts such as Zyklon-B or Niden Div 187 that achieves an unrelenting war metal powerhouse drive mated with a subtle melodic lining.
As written in a first impressions review of advance Kaeck tracks:
Kaeck is a new style of black metal that upholds the intensity of war metal but infuses it with the elegant melody of classic black metal. The result is a surging malevolence on the surface with an inner core of transcendent beauty.

To the experienced ear, comparisons arise immediately to Impaled Nazarene and Zyklon-B, both of whom used the blasting full-speed attack with undertones of melody to its advantage. A more bestial presence occurs here, taking influence from both the death metal crossover of later black metal and the burly high-intensity rhythm and noisy attack of war metal. The result melds sawing riffs with rising hints of melody and then runs that violence into archly ascending phrases which emphasize a union of the aggression and the beauty into a rejection of all but the pure feral naturalism of both beast and forest.
This new style of black metal takes what made war metal powerful and reduces the repetition and tuneless grinding that lowered its listenability, then added what distinguished Norwegian black metal from the rest, which includes unique but straightforward song structures shaped around the concept guiding each song, and melodic underpinnings that allow songs to develop and keep listener interest.
Kaeck is comprised of:
Jan Kruitwagen – SAMMATH
Swerc – KJELD
Oovenmeester – NOORDELINGEN
DeathMetal.org is fortunate to have a unique and exclusive stream of this new material. We are proud to present "De Kult" from Kaeck and its upcoming album Stormkult, unleashed on Folter Records on August 28:
Tags: folter records, kaeck, kjeld, noordelingen, sammath