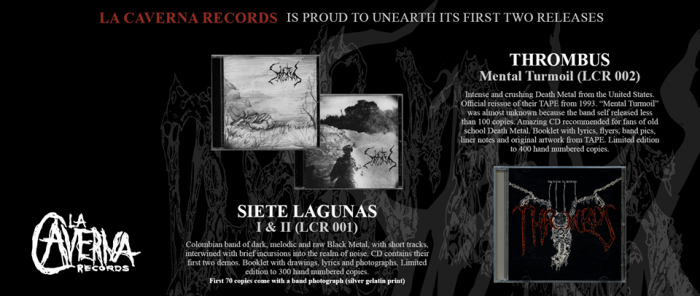 Death Metal Underground wishes to announce its support of new Colombian underground record label La Caverna Records. Inaugurating its own birth, the label has just published its first two releases:
LCR 001: Siete Lagunas – I & II (2018)
LCR 002: Thrombus – Mental Turmoil (2018) [original cassette release from 1993 was limited to 400 copies]
Apart from the pleasure of seeing quality old and rare underground material being dug up, we hope to see the label cautiously unveil and discover more projects like Siete Lagunas, dark metal, ultra metal or otherwise dark ambient tinged underground metal, and death metal of the quality we hear in Thrombus.
So far, Death Metal Underground has published a review of Siete Lagunas I & II. A review of Thrombus Mental Turmoil is also coming soon.
La Caverna Records can be contacted here:
Tags: 2018, death black metal, la caverna records, siete lagunas, thrombus, underground label