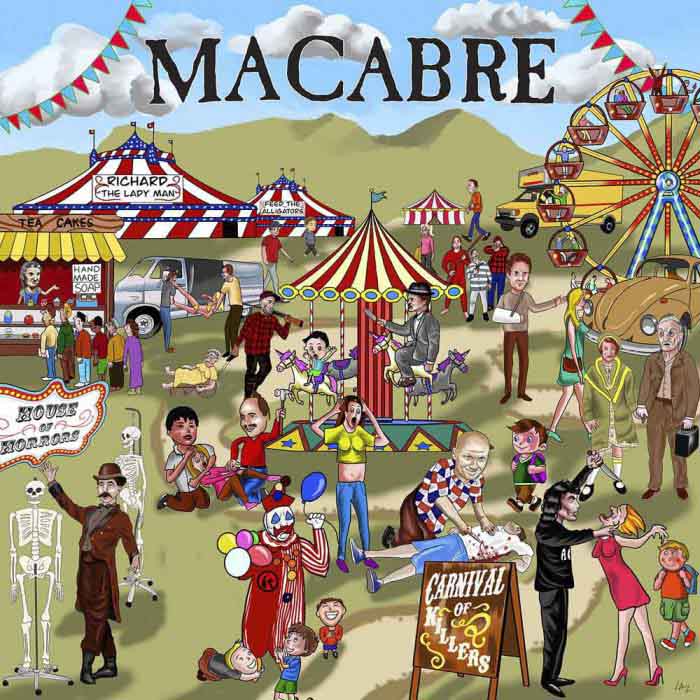 Technical death metal band Macabre, who straddle the line between death metal and grindcore with their tightly-choreographed songs on the topic of serial killers, have slated their newest album Carnival of Killers for release on November 13, 2020 via Nuclear Blast.
Like previous Macabre offerings, this promises musically-adept humorous songs about the lighter side of mass murder, torture, dismemberment, corpse mutilation, sodomy, and shallow graves. The label released the following statement:
Come one! Come all, to the demented, heinous bloodbath of a murder metal circus that declares MACABRE's return; Carnival Of Killers. As the band's first full-length album in almost 10 years and just in time for their 35th anniversary as a band, "Carnival Of Killers" will be released on November 13th via Nuclear Blast Records.

MACABRE's Corporate Death comments, "'The Lake Of Fire' is about the hidden bunker that Leonard Lake and Charles Ng had where they tortured and killed young women with tools and filmed it all. Those were two very evil men so I thought the title was fitting!!! I started writing the chorus back in our Grim Scary Tales era and finally finished the song all these years later for the new album Carnival Of Killers. I hope you like it, I wanted a lot of variety on the new album, this is just a taste."

"Carnival Of Killers" was recorded and mixed by Tomek Spirala of Studio1134 with the exception of drum tracks as he recorded them at Kiwi Audio with the help of Mark Walker. The mastering of "Carnival Of Killers" was handled by J.F. Dagenais at JFD Studios in Dallas, TX. The "Where's Waldo" meets serial killer album artwork was created by Corporate Death (lead singer | guitarist Lance Lencioni) and artist Laz Gein and highlights the album's most memorable references.
Tracklist
1. Intro
2. Your Window Is Open
3. Joe Ball Was His Name
4. Stinky
5. Abduction
6. Tea Cakes
7. Them Dry Bones
8. Richard Speck Grew Big Breasts
9. Slaughter House
10. Breaking Point
11. The Lake Of Fire
12. Warte, Warte
13. Now It's Time To Pay
14. The Wheels On The Bug
15. Corpse Violator
16. The Murder Mack
Editions
-CD Jewel
-Vinyl
-Carnival Edition (Milky Clear w/ Red, Blue, Green & Yellow)
-Strangled Sky Edition (Blue/White Cloudy)
-Clown Splatter Edition ( Milky Clear with Rainbow splatter)
-Black
The press release revealed a few more details:
As MACABRE's first full length album in almost 10 years since the release of "Grim's Scary Tales" in 2011, and just in time for their 35th anniversary as a band, this latest installment to the catalogue will butcher your ears and derange your psyche as to be expected! Judging by the title, one can positively assume "Carnival of Killers" contains stories of your favorite murderous psychos: Bundy, Speck, Gacy, Ramirez, and a slew of heinous killers never sung about by MACABRE, before now.

The album artwork, designed by Corporate Death (Lead Singer Lance Lencioni) and artist Laz Gein presents a "Where's Waldo" style illustration of a colorful carnival filled with jovial children on rides, all amidst a slew of the album's most memorable references: Bundy waving a woman over to his Beetle with his cast, H.H. Holmes displaying medical skeletons to passers by, Bittaker and Norris hammering their latest victim in the face in public instead of in front of a camera… a touching, family oriented, thrill filled weekend! In true MACABRE fashion, a morbid sense of humor, as well as a refinedvtaste in true death metal are most definitely required to appreciate the gruesome lyrics and the switches between complex guitar work, and bouncy, addictive themes.

"Them Dry Bones" or "The Wheels On The Bug" ring true to MACABRE's spoofy side as familiar melodies intertwine with the ghastly histories of H.H. Holmes and Ted Bundy. "Warte, Warte" is sung entirely in German to aid in referencing the authenticity of serial killer Fritz Haarmann's insanity. "We did another Haarmann song (our 3rd one) that's actually a remake of a hit German song from the 1950's, but in the style of MACABRE," explains Lencioni. Meanwhile, fans of "Grim reality", "Gloom", and "Sinister slaughter" will instantly click with blistering tracks like "Your Window Is Open", describing some of the Night Prowler Richard Ramirez's most grotesque accomplishments. As is with the entirety of the album, Corpse Violator exemplifies Corporate Death"s vocal range as he exudes Mercyful Fate-esq highs, amidst guttural, death-gore growls. The baroque guitar solos smashed against raging, dumpy riffs and psychotic drums howl with an excellent progression while remaining firmly engaged with an old school legacy.

"Now It's Time To Pay" will chime familiar to any fan of "Dahmer" with its sinewy riffs and fiesty rhyme scheme. Toss in a few deranged musical interludes that leave you feeling maniacal, and "Carnival of Killers" is born! "When it came to recording, I researched some guys from the area and we ended up choosing our friend Tomek Spirala of StudioH34," details Lencioni. "He really knew how to record a great vocal sound, and I wanted to focus on the vocals with this one." Mark Walker of Kiwi Audio assisted in tracking the drums, with final touches and musical tweaks by J.F. Dagenais at JFD Studio, Dallas Texas. Prepare for another gore filled thrill ride from a band that originated in the 80's, yet progresses to the edge of modern metal with clear production, expanded variety, and with a whole mess of nostalgic pleasure. "Carnival of Killers" will be released this Autumn, 2020 via Nuclear Blast Records.
Lineup
Nefarious (Charles Lescewicz – Bass, Vocals)
Corporate Death (Lance Lencioni – Guitar, Vocals)
Dennis The Menace (Dennis Ritchie – Drums).
Tags: death metal, Grindcore, macabre