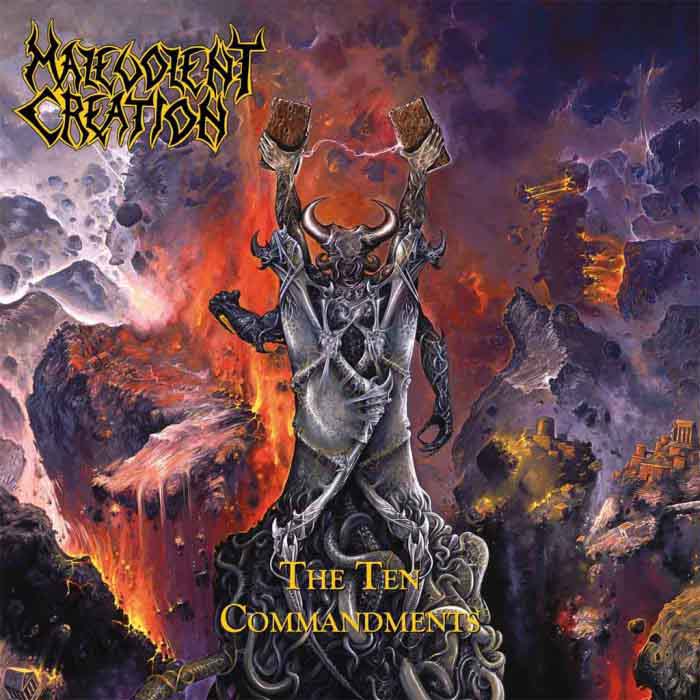 Peer into the intense fury of three decades ago when Malevolent Creation unleashed their powerful fusion of speed metal and percussive death metal, The Ten Commandments (1991). Full of nice meaty riffs cleated to pounding double-bass drumming, this album explored the side of death metal that stayed closer to conventional metal.
Hammerheart Records announced the release of this album and on vinyl and a 2-CD edition which features the remastered album on the first disc, and demos and a live recording on the second.
Tracklist
Disc One
Memorial Arrangements
Premature Burial
Remnants Of Withered Decay
Multiple Stab Wounds
Impaled Existence
Thou Shall Kill!
Sacrificial Annihilation
Decadence Within
Injected Sufferage
Malevolent Creation
Disc Two
Demo 1987
Sacrificial Annihilation
The Traitor Must Pay
Confirmed Kill

Demo 1989

Injected Sufferage
Epileptic Seizure
Violent Offspring

Demo 1990

Remnants of Withered Decay
Decadence Within
Impaled Existence

Official Live Tape 1989

Malevolent Creation
Remnants of Withered Decay
Darkness Within (The Human Corporation)
Epileptic Seizure
Sacrificial Annihilation
Scout Woman
Violent Offspring
You can score your copy from Hammerheart Malevolent Creation page.
Tags: death metal, hammerheart records, Malevolent Creation, Speed Metal