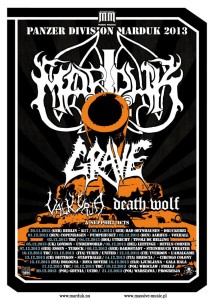 Third-wave black metal band Marduk and legendary brutal Swedish death metal band Grave will be joining Death Wolf and Valkyrja on a European tour. Marduk, perhaps most famous for its fast melodic ode to the unknown Opus Nocturne, will headline all dates on the "Panzer Division Marduk 2013" tour.
For those who experienced early death metal, Grave is well-known for 1991's Into the Grave, a dark and primitive Swedish death metal journey that straddled the line between dark death metal, brutal death metal and primal grindcore. Among metalheads of the day, not owning a copy of this seminal release was like not owning shoes.
This European tour sees these bands join forces for raw energy through intense speed and solemn but vicious riff attack, which is how each has distinguished itself in the past. European metal brothers and sisters are lucky to experience this unrestrained assault of sonic power.
MARDUK
GRAVE
DEATH WOLF
VALKYRJA
+ support act
| | | | |
| --- | --- | --- | --- |
| | | | |
| 29.11.2013 | GER | Berlin | K17 |
| 30.11.2013 | GER | Bad Oeynhausen | Druckerei |
| 01.12.2013 | DEN | Copenhagen | Pumpehuset |
| 02.12.2013 | DEN | Aarhus | Voxhall |
| 04.12.2013 | HOL | Utrecht | Tivoli De Helling |
| 05.12.2013 | UK | London | Underworld |
| 06.12.2013 | BEL | Leffinge | Devil's Corner |
| 07.12.2013 | GER | Essen | Turock |
| 08.12.2013 | GER | Darmstadt | Steinbruch Theater |
| 11.12.2013 | ITA | Turin | United |
| 12.12.2013 | CH | Yverdon | L'Amalgame |
| 13.12.2013 | CH | Dietikon | Stadthalle |
| 14.12.2013 | ITA | Brescia | Circolo Colony |
| 15.12.2013 | ITA | Bologna | Zona Roveri |
| 16.12.2013 | SLO | Ljubljana | Gala Hala |
| 17.12.2013 | AUT | Vienna | Escape Metalcorner |
| 19.12.2013 | POL | Wroclaw | Firlej |
| 20.12.2013 | POL | Gdynia | Ucho |
| 21.12.2013 | POL | Warszawa | Progresja |
Tags: Black Metal, death metal, death wolf, grave, marduk, valkyrja