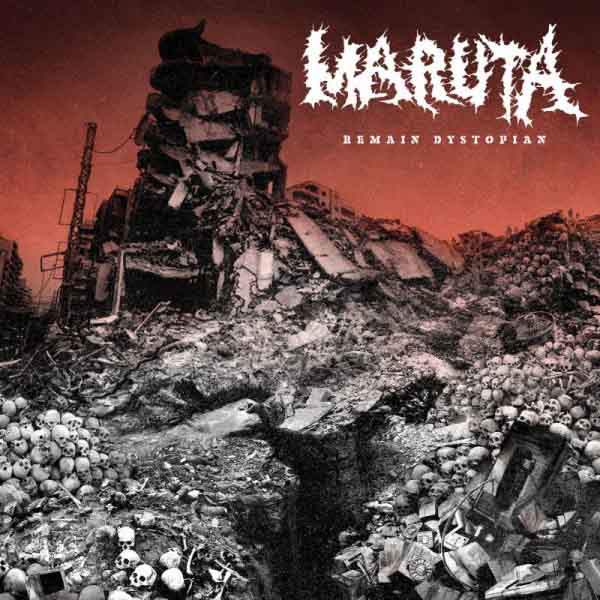 Sporting the grindcore label, Maruta try very hard and not altogether without failure to insert technical deathcore riffcraft into a grindcore overall approach. While the technical abilities of the band is not in question as the musicianship in this album is superb and clinically precise, and neither is their creativity challenged, as they remain in focus in terms of style and approach through and through as they bring distinct ideas into the album, the premise of it all is not entirely convincing.  The reason for this is that the carnival approach that the technical deathcore, although not completely incompatible with grindcore, is deficient by nature, bringing down the music against the effort of a talented band like Maruta.
Grindcore is known for short songs with abrupt beginnings and endings. The genre is characterized by spasmodic outbursts of madness with ventures into heavy and slightly groovy mid-paced sections whose focus remains on the brutality and aura of the music. All this is achieved by Maruta on Remain Dystopian, however, this is only the superficial description of the genre, the first impression it gives to an audience, and this is where most bands, including this one, get trapped. The grindcore of early Napalm Death, Blood or Repulsion can be described in that way, each with different percentages and variations of said description, but there is something that sets them apart from the crowd and it is that at the construction level, the relation between riffs is still carefully maintained. In Impulse to Destroy, Blood remains fluid through riff transitions even when the they switch between speeds or intensity levels, the smoothness within the song is maintained. At the risk of sounding contradictory, I would venture to say that even relatively abrupt transitions remained smoothed out through execution of small fills or very brief affectations that are characteristic of Blood.  Maruta, on the other hand, obfuscate the music with the carnival approach of modern metal bands, creating interest through surprise instead of coherence and build up.
All in all Remain Dystopian is a far more accomplished effort than the vast majority of its contemporaries and fans of the genre should keep one eye on them. While fans of modern metal call this incoherence of the music "experimentation" and "nonconformity", it all boils down to a lazy gimmick. Maruta has the technical chops, and they definitely have the vision as their focused compositions show us, but the chosen direction is perhaps not the best. Were Maruta to correct this direction and it is possible we would have a modern giant of grindcore in the making.
Tags: 2015, blood, deathcore, Grindcore, Impulse to Destroy, Maruta, napalm death, Remain Dystopian, repulsion, Technical Death Metal