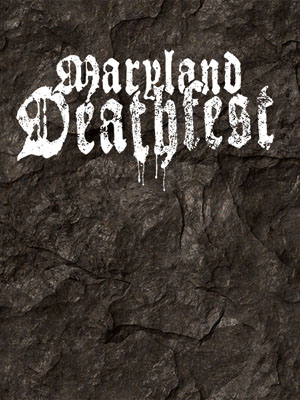 The organizers of the Maryland Deathfest (MDF), which took over from the deceased Milwaukee Deathfest, have released lineup and venue information from the forthcoming 2014 festival which will occur from May 22-25, 2014.
In its newest incarnation, MDF will launch on Thursday, May 22, with bands playing only at the Rams Head Live located in the Power Plant Live! section of downtown Baltimore at 20 Market Place.
However, from Friday through Sunday, two venues will be shared. Metal bands will play the Rams Head Live from 10 pm – 2am, and across the street at the Baltimore Soundstage, grind/crust/HxC/punk bands will be playing simultaneously.
AETERNUS (Norway)
ARCAGATHUS (Canada)
ASPHYX (Netherlands)
AT THE GATES (Sweden)
BIRDFLESH (Sweden)
BÖLZER (Switzerland)
BONGRIPPER
CANCER (UK)
CANDLEMASS (Sweden)
CASTEVET
COFFINS (Japan)
CREATIVE WASTE (Saudi Arabia)
CRYPTIC SLAUGHTER
THE CHURCH OF PUNGENT STENCH (Austria)
CROWBAR
DEATH TOLL 80K (Finland)
DIOCLETIAN (New Zealand)
DROPDEAD
ENTHRONED (Belgium)
ENTRAILS (Sweden)
EXCRUCIATING TERROR
EXTINCTION OF MANKIND (UK)
FINAL CONFLICT
GOD MACABRE (Sweden)
GORGUTS (Canada)
GRAVES AT SEA
HEMDALE
HOODED MENACE (Finland)
IMMOLATION
INCANTATION
IN DISGUST
MACHETAZO (Spain)
MESRINE (Canada)
MGLA (Poland)
MITOCHONDRION (Canada)
MUTILATION RITES
MY DYING BRIDE (UK)
NECROS CHRISTOS (Germany)
NOCTURNUS A.D.
NOOTHGRUSH
ORATOR (Bangladesh)
RATOS DE PORAO (Brazil)
ROTTING OUT
SACRIFICE (Canada)
SARKE (Norway)
SICK/TIRED
SOILENT GREEN
SOLSTAFIR (Iceland)
STAPLED SHUT
TAAKE (Norway)
TANKARD (Germany)
THEORIES
TORCHE
ULCERATE (New Zealand)
ULVER (Norway)
UNCLE ACID & THE DEADBEATS (UK)
UNHOLY GRAVE (Japan)
UNLEASHED (Sweden)
WAR MASTER
WHITEHORSE (Australia)
WINDHAND
WITCHRIST (New Zealand)
WRATHPRAYER (Chile)
Tags: death metal, maryland death fest