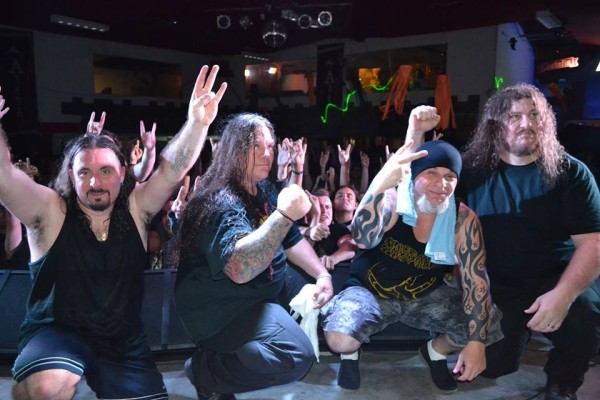 In March of this year, formative Florida death metal band Massacre will release their highly-anticipated followup to 1991's From Beyond. On a Facebook post, the band released the following tracklist.
Track list:
As We Wait To Die
Ascension Of The Deceased
Hunter's Blood
Darkness Fell
False Revelation
Succumb To Rapture
Remnants Of Hatred
Shield Of The Son
The Evil Within
Sands Of Time
Beast Of Vengeance
Back From Beyond
Honor The Fallen
Composed of ex-Death personnel and musicians from nearby Florida death metal bands, Massacre in its From Beyond days was a unique animal in that it was straight-ahead death metal with an intelligent vibe. That is, these songs were well formed to deliver an intense emotional dose and thrill-seeker hairs on the back of your neck standing up at some of the riff combinations. It was like an adventure story through an unknown land.
What made it unusual for the time was that it threw out the chunky/bouncy riffing that most bands were choosing at the time in order to be closer to mainstream metal. Instead, Massacre used guitarist Rick Rozz's immense tremolo skills and big burly fuzzy distortion to create a sound like thunder through the clouds. The tremolo riff enabled them to join together riffs and keep momentum flowing, rather than relying on the constant interruption-based expectation as chunky/bouncy riffing does, and thus the band was able to assemble simpler riffs into songs with malevolent grandeur.
It will be interesting to see what they cook up for Back From Beyond. Self-referential album titles can work out poorly for bands, although it worked just fine for AC/DC. The band released the Condemned From the Shadows EP last year to some acclaim, and from that work it appears the band may be heading in a more traditional heavy metal direction.
Tags: death, death metal, massacre, tampa death metal