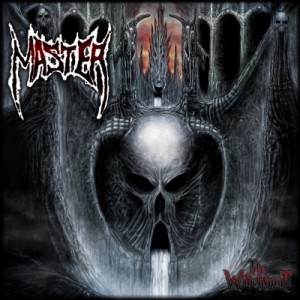 On September 27, famous proto-death metal band Master unleash The Witchhunt, the band's twelfth album since the early days when Paul Speckmann moved from heavy metal band War Cry to the more punk-influenced band Death Strike, who released their classic and only album Fuckin' Death at about the same time Master released its first opus.
(If you ask us, the Master albums to get are Collection of Souls and the Master-related band Speckmann Project's self-titled album, which contains many updated versions of classic Master works.)
Over the past two decades, Master has steadily been abandoning its heavy metal and bounding punk influenced style for a tighter, more complex, and more rigid attack that compares favorably to mid-1990s death metal.
The new Master album, featuring musicians Paul Speckmann recruited in his new home nation of Czech Republic, has an even tighter and more energetic sound. If the past is any guide, this will be an album to enjoy for all death metal, heavy metal, punk and blues fans.
The Witchhunt
Plans of Hate
Another Suicide
Waiting to Die
The Parable
God of Thunder
Remove the Clowns
Raise your Sword
Wipe out the Aggressor
Manipulated to Exterminate
The American Dream
For updates and to see if Master is coming to your town, check out the band's official homepage.
Tags: death metal, Heavy Metal, master, punk