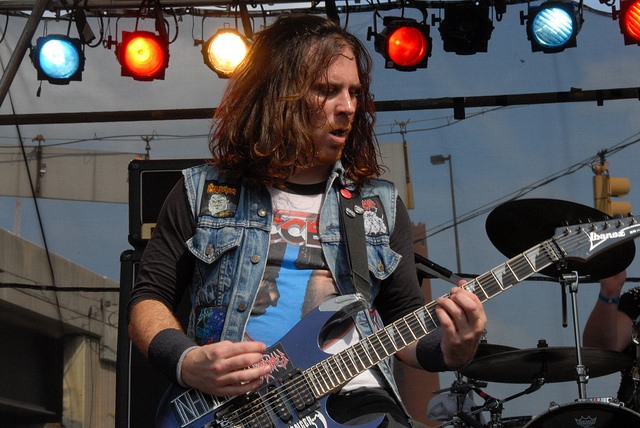 Matt Harvey of deathcore band Exhumed was called up to provide a contrary viewpoint on Decibel Magazine's website to MetalSucks' call for a proscription of Hells Headbangers Records, circlejerking around the Blast Beat advertising network.
Presumably Ben Umanov and Matt Goldberg were looking for someone other than fat hypocrite Neil Jamesson (Krieg) to provide the counterpoint to their manifesto. Harvey is a metalcore musician of the type covered on MetalSucks, Metal Injection, and Decibel. Exhumed rehashes the aesthetics from Carcass's career (typically from Reek of Putrefaction to Heartwork) into bouncy rocking punk singalongs for drunken fetal alcohol syndrome sufferers mosh to. The same audience as those MetalSucks readers not blowing up their comments section. Umanov and Goldberg found a funderground punk to make a contrarian bar room argument to MetalSucks threat of "Join us or die." like Alan Rickman in Robin Hood: Prince of Thieves.
Matt Harvey immediately started virtue signaling after declaring that metal is not politically correct despite not even playing it. Barney Greenway, the current frontman of Napalm Death, is Jesus Christ according to Matt Harvey despite being a Communist. Communism is the deadliest political ideology of all time, giving rise to delusional mass murdering dictators like Vladimir Lenin, Joseph Stalin, Mao Zedong, and Pol Pot. According to Matt Harvey, Greenway is a better human being despite his personality defects than those Harvey brands as Nazis like Varg Vikernes and Rob Darken. Napalm Death has always been politicized; Burzum and Graveland are apolitical. Neither Vikernes nor Darken are Nazis; Vikernes is an environmental traditionalist who acknowledges human ethnic and racial specialization for varied habitats that humanity inhabits while Darken is Polish nationalist. Both acknowledge their ancestral gods, which according to Harvey, makes them intellectuall inferior to Greenway, who kowtows before busts of Marx, Engels, Lenin, and Foucault.
Matt Harvey is not a metal artist, he is just another poseur metalcore musician jamming himself into the Blast Beat Network's daisy chain for page views and corporate advertising dollars. A daisy chain is a group of men sodomizing each other in a circle. That is what the Blast Beat Network does: provide contrary viewpoints to poseur idiocy on the websites within the advertising network to keep readers clicking back and forth, irrumating their faces with constant preposterous illogical arguments. Harvey is just another metalcore scenester wanting to get the last word and virtue signal to his punk buddies that Exhumed is ideologically better than the actual metal bands he mentions.
In the United States of America, the Constitution provides for freedom of speech, assembly, and the press. Hate speech is constitutionally protected, which was recently affirmed by an unanimous United States Supreme Court verdict. Hells Headbangers can stock any title they want to stock. Nobody wants or needs to hear the opinions on metal of poseurs who do not even play or like metal music such as Ben Umanov, Matt Goldberg, and Matt Harvey. Fuck off and die.
Tags: ben umanov, blast beat network, carpetbaggers, communism, communists, deathcore, decibel, exhumed, homosexuality, matt goldberg, Matt Harvey, metalcore, MetalSucks, national socialist black metal, Nazism, news, nsbm, poseur, poseurs, sjws, social justice warrior, social justice warriors