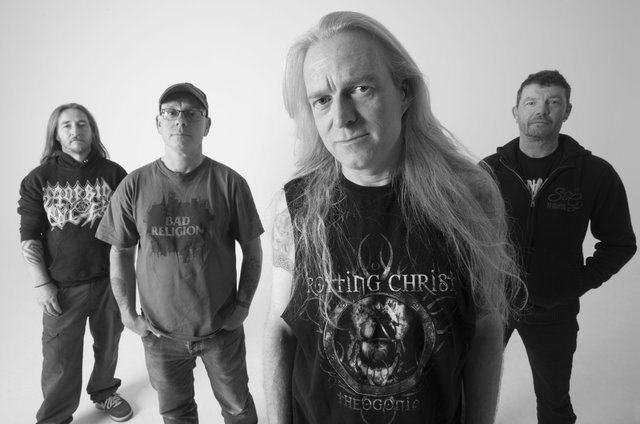 Memoriam posted the first track and track list for their upcoming death 'n' roll album For the Fallen. Hear Karl Willets sound tired and rip off himself on "Reduced to Zero" over riffs that make Benediction's The Grand Leveller sound like a peak of death metal in comparison. I'm so excited! Let's find out what this single sounds like!
Here's the press release from Nuclear Blast:
Old school death metallers, MEMORIAM, are set to unleash their debut album, For The Fallen, on March 24th, 2017 through Nuclear Blast Records. It will contain 8 tracks, incl. 'War Rages On', 'Resistance' (both featured on The Hellfire Demos I) and 'Surrounded (By Death)' (featured on The Hellfire Demos II).

The album's impressive artwork was created by Dan Seagrave (BENEDICTION, DISMEMBER, HYPOCRISY, SUFFOCATION).

Dan stated on the cover artwork:
"Starting from the bands thoughts on visualising a kind of funeral procession with a theme of combat, war and in conjunction with the title For The Fallen. As with all my works, I then attempt to make the information evolve in my minds eye, and allow imagination to take over those elements. But retaining the core concept. The painting thus depicts.

"A funeral procession moving through a long war torn cityscape. Twisted shards of towers & buildings. A cathedral facade stands defiantly, yet riddled with destruction and decay. At closer inspection the structures all seem to be infected with an element of natural decomposition, as if organically inclined to fade with the demise of the season.The season itself lost in a timeless void.

"The figures appear as remnants of once soldiers, now strange in their gathered mass. Drawn forwards by the drifting momentum of the procession. Unaware of their emaciated state they follow the commander. The Commander's elongated appearance is tattered and almost creature like, with the combat style elements and gas mask falsely presenting as a costume.

"The procession appears almost ghost like, ancient and serene, slowly moving through this eerie place as if forever.

"Far in the background there might still be a war happening, but perhaps in another time. As we view a sub level of reality. Lost in the present. Captured in light, where the war had passed through and we are left in a ghost biology. Where chemicals and history meet to create an inescapable surrealism."

To give a first taste of what to expect from this highly-anticipated record, the first single from For The Fallen, 'Reduced To Zero', has been launched today. Check it out over on YouTube: https://www.youtube.com/watch?v=Nmucoieg2Lc

Vocalist Karl Willetts stated on the track:
"'Reduced To Zero' is a comment on the times that we live in. In a world that is dominated by fear, hatred and intolerance, the song is a direct result of Brexit and Trump and the general rise of right wing nationalistic xenophobia."

For The Fallen is also available for pre-order in various formats now: http://nblast.de/MemoriamFTF
Pre-order For The Fallen now digitally via Amazon or iTunes and receive 'Reduced To Zero' instantly.

For The Fallen – Track listing:

DIGI
01. Memoriam
02. War Rages On
03. Reduced To Zero
04. Corrupted System
05. Flatline
06. Surrounded (By Death)
07. Resistance
08. Last Words

LP
Side A
01. Memoriam
02. War Rages On
03. Reduced To Zero
04. Corrupted System
Side B
01. Flatline
02. Surrounded (By Death)
03. Resistance
04. Last Words

Also, pre-order the upcoming 7″ single The Hellfire Demos II (white/black splatter, other colours already sold out!) here: http://nblast.de/MemoriamDemosNB

The Hellfire Demos II – Tracklisting:

Side A
01. Drone Strike (only available on this release!)
Side B
02. Surrounded (By Death)

MEMORIAM was primarily developed to fill the void that was left following the tragic death of Martin "Kiddie" Kearns, the drummer from BOLT THROWER, back in September 2015. BOLT THROWER subsequently placed all activity on hold for the foreseeable future which gave Karl Willetts an opportunity to develop a new project with friends that had expressed interest in forming a band for some time. MEMORIAM are an old-school death metal band, maintaining the high standards set by their previous bands, focusing on the themes of death, loss and war. Initially the band members got together to play covers of songs that had influenced them throughout their careers within the death metal scene, however it soon became apparent that the new songs that they created were of a superior standard.

MEMORIAM are:
Karl Willetts – ex-BOLT THROWER | vocals
Frank Healy – BENEDICTION, SACRILEGE | bass
Andy Whale – ex-BOLT THROWER | drums
Scott Fairfax – ex-LIFE DENIED, BENEDICTION (live) | guitars
Here's the preview track, an unenergetic lyrical rip on"Silent Demise" from For Victory:
Bolt Thrower's glory days are gone.
Tags: boring, death 'n' roll, karl willets, memoriam, new track, nuclear blast records