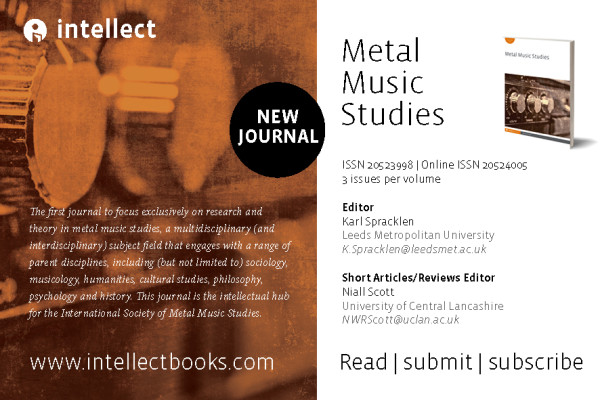 The journal of the International Society of Metal Music Studies (ISMMS), Metal Music Studies, is now available via subscription through direct purchase from the publisher Intellect Books. Editors Karl Spracklen and Niall Scott have been at the forefront of integrating heavy metal and academia so that the latter may study the former.
Until 2016, when membership in the International Society of Metal Music Studies comes with a subscription to Metal Music Studies, interested parties — whether members of ISMMS or not — will need to purchase a subscription at the following location. Volume One of Metal Music Studies is available in three issues over 2014 and 2015.
Subscriptions will become available for sale in May. We're hoping for heavy coverage (hehe) of early primitive death metal.
Tags: academia, International Society of Metal Music Studies, karl spracklen, metal academia, metal music studies, niall scott