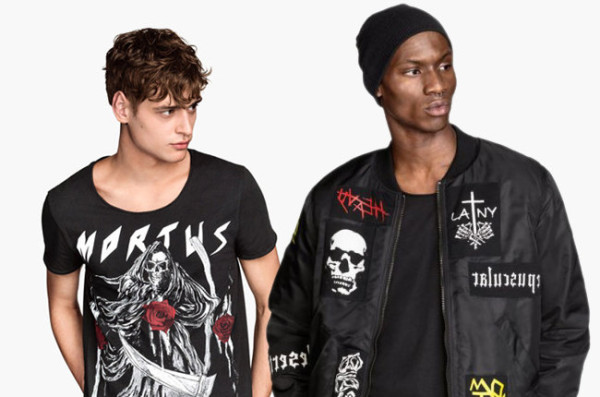 The ongoing rebellion against censorship in the name of social justice #metalgate continued this week when metal fought back against commercial assimilation. Commercial assimilation and social justice censorship have the same root, which is a desire to make metal "safe" so it can be sold to more people. This requires metal denying its inherently apocalyptic realist nature.
In the most recent case, doofus retailer H&M got trolled when it offered a new line of clothing with fake metal band logos on it, trying to assimilate metal's subcultural style of dress so conformist herdsters can look like weekend rebels. A member of a goofy metal band thwarted the effort by inventing bands and histories that satirized the clothing line and tied it to nationalist black metal:
Henri Sorvali of Finnish metal bands Moonsorrow and Finntroll admitted to Billboard and Noisey that he is part of Strong Scene Productions, the "art collective" that set metal blogs buzzing by creating fake histories to go along with the imaginary metal band logos attached to some pieces of H&M clothing.

Sorvali says he and a group of people whom he declined to name launched the joke because they were angry at H&M's campaign — which includes items like a bomber jacket and pants with patches styled to look like metal logos — because it was "selling people fake, imaginary stuff from a subculture that is based on honesty and being true," he says.

…"There is so much controversial stuff which is definitely not suitable for mass marketing, and we wanted to bring the ugly side of metal to their campaign, to show that we as metalheads are more aware of the content you are selling people that you are as sellers," Sorvali explained during a phone call from Finland. "There are so many things wrong with commercializing metal without knowing what they are selling that we felt that somebody has to make a statement about it."
This counter-troll showed great ingenuity and has retailer H&M backing away in denial. The truth is that society fears heavy metal on two levels: conservatives fear it is eroding social standards, despite those standards having been obliterated in the 1960s and 1990s. Liberals fear that it is introducing unwelcome realism that clashes with their spectrum of belief, all of which is based in the Enlightenment idea of individual human reason being superior to natural order, including logic itself.
We shouldn't forget that censorship of metal bands for being outrageous was common back in the day: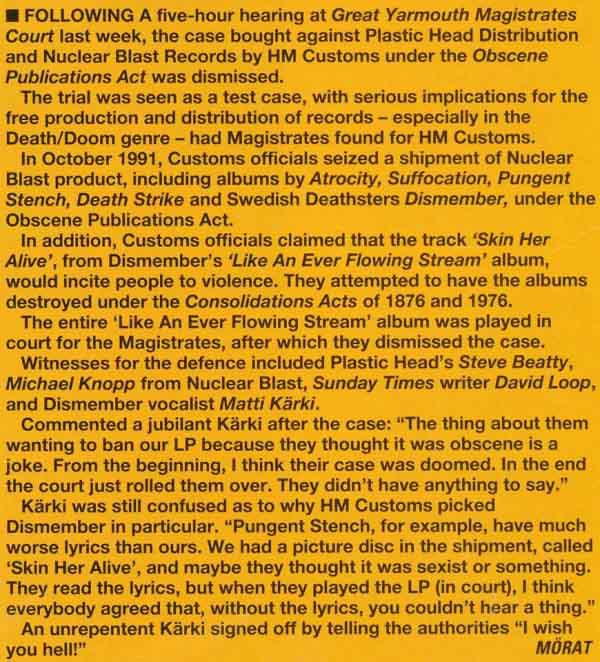 And remains common to this day, for the same reason:
Politicians caught wind of Eat The Turnbuckle's European tour before it made its way into Glasgow earlier this week.

Audiences get to listen to their ear-spitting death metal sounds while the members of ETT attack each other with an array of weapons including fluorescent light tubes and baseball bats wrapped in barbed wire.

But despite playing show in Edinburgh, they arrived at Glasgow's Audio venue only to be turned away over concerns that the police would halt the gig, reports the Daily Record.
While Eat the Turdbuckle seems like a joke band designed to sell records for a gimmick, the fact is that metal's focus on extremism, or a refusal to ignore the vicious and terrifying sides of life, has made it a target since its inception. Normal people dislike anything which makes them feel as if they are not totally in control of their own lives. Lyrics and imagery of disease, war, apocalypse and evil will disrupt the happy oblivion in which the normal person exists, which was the intent behind heavy metal's founding: Black Sabbath wanted to interrupt the "peace, love and happiness" apologism for the daily oblivion of humanity, and to inject some "heavy" realism instead. Since that time, metal has continued doing the same when it is at its best, and when it is not so great, has managed at least parodic obscenity that ruffles the feathers of conservatives and makes liberals turn into nagging victim-baiters.
This pattern plays out in more areas than heavy metal. Canadian site Best Gore was censored for its publication of images that revealed both the dark side of life and, by showing that Canada isn't the paradise under the control of a strong benevolent guiding hand that its leaders want you to think it is, revealing government ineptitude:
Mark was charged with "corrupting morals" under section 163 (1) (a) of the criminal code, for being the first in the world to publish a report on the gruesome murder of Chinese student Jun Lin, by alleged cannibal Luka Magnotta, also known as the 1 Lunatic 1 Ice Pick video.
You can see the video below. If you have not figured out that this video might contain disturbing imagery, you have mental health problems. If you require special tags, warning signs and me to make a statement about how I don't condone this and think it was a horrible tragedy and all the other fake altruistic boiler-plate salesmanship that political figures normally use, you're a potato and should go somewhere else.
Update: Google has threatened to remove ads from our site because we hosted this video. If you do not believe that monopolistic corporations are as much a threat to civil liberties as government, you are not paying attention.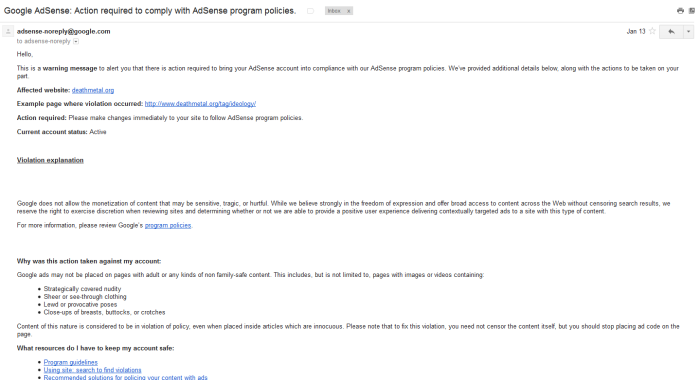 What most people refuse to accept is that censorship is the norm.
People do not like feeling out of control, and they only feel in control when in denial of all the scary things they can't control like… death, disease, war, apocalypse, evil, and everything else in heavy metal lyrics.
Consider the case of Girls and Corpses magazine, which has not only been banned several times from Facebook, but had censorship issues in other areas:
We've had some problems. We did a Religion Is Dead issue and Ingram, I believe, is in Tennessee. They made us bag the magazine, because we did a religion issue. They said it was because of nudity, but there has never been any nudity in the magazine. They didn't like that we took on religion. We went after all religions and it was comedic. We had Jim Caviezel in the issue. I did an interview with him. We made fun of all religions. Have a sense of humor. The only one we really tiptoed around was Muslims. We love Muhammad. We didn't tread there.
The editors of Girls and Corpses had this to say about the Facebook censorship:
Sorry I haven't posed in a day corpses. I was 'put on notice' by Facebook after I posted a fully clothed photo of a female, that offended some loony chic who had her Bible Belt cinched too tight. This "community standards" thing at Facebook is censorship pure and simple. Mostly, the offended party is someone jealous of the freedoms that come with G&C Magazine or are simply a humorless twit. If you don't like something at Girls and Corpses, feel free to just leave. Don't go whining to Facebook that we have offended you with our images. If you are too sensitive and have no sense of humor why did you friend us in the first place? Girls and Corpses is an intelligence test. The smart ones get the gag and the dumb ones should just get out… preferably at high altitude.
They make an important point, which is that those who call for this censorship are fundamentally not ideological, but seeking a sense of power. They don't understand it, or it conflicts with their vision of themselves, so they demand it be removed. Facebook, like any other business, does what it can to provide a safe environment for its customers, which means removing things that make people feel unsafe, like nudity, violence, gore, racial comments, sexual innuendo, etc. These things are not the offense that people actually have, which is fear of the bad things that happen which are associated with these ideas. They see the symbol and, like the superstitious simians that humans are, they figure if they can remove the symbol and by doing so remove the awareness in their own minds of what it stands for, they can be in control and feel "safe." All of that is nonsense on a realist level, but it's how most customers an voters react.
What this means for #metalgate is that we should not take SJWs seriously. They are no different than the church ladies and feminists who were complaining about Girls and Corpses or the outraged government servants who wanted the Luke Magnotta video removed. They see it as a threat to their personal power. They need a "reason" why it should be taken down, and so they fall back on using social conventions we cannot criticize, like "do it for the children" or "respect the victim's family" or ideologies which claim to defend the pitied and helpless, like feminism, anti-racism, sexual equality and the like. We make a mistake when we think SJWs believe any of this stuff. In reality, they are using it the same way commercials use sex to sell beer or tough guy images to sell pickup trucks: they want to create a pleasant image, or at least one we cannot imagine criticizing, in our minds and then use it to sell us the product. In this case, it's their power and importance, because without their outrage they would have nothing and merely be a group of weird-looking socially-dysfunctional mental defectives.
"EAT THE TURNBUCKLE VS NECRO BUTCHER at GWARBQ" Youtube video censored by Google, who own Youtube.
Tags: Black Metal, censorship, finntroll, gamergate, girls and corpses, h&m, henri sorvali, ideology, luke magnotta, metalgate, nbsm, sjws, stoner metal