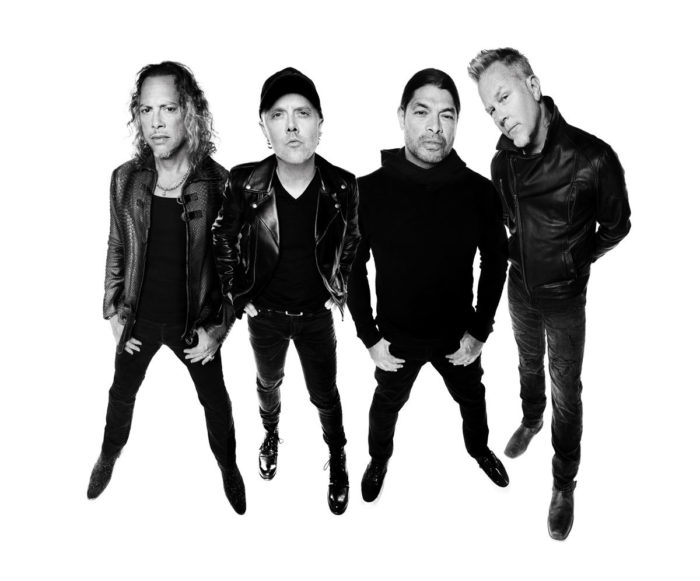 Metallica premiered a new track off of their upcoming album, Hardwired… To Self-Destruct today on Youtube.
"Atlas, Rise!" shows the oh so typical situation of a veteran band bereft of any more ideas of their own directly imitating their influences. "Atlas, Rise!" features bog standard speed metal and Motorhead-style riffs set around the type of generic chugs used in such exemplary styles as nu-metal and symphonic power metal so Hetfield can say the lyrics. The song eventually gets (not progresses) into NWOBHM style guitar harmonies and a disappointing solo that really isn't the climax of the song as "Atlas, Rises!" has no rising action; Kirk Hammett just starts suddenly soloing like a mugging from the back at an ATM in broad daylight to remind fans that yes he laid down some guitar tracks for this.
The hodgepodge, incongruous nature of the various parts of "Atlas, Rise!" reminds me of Diamond Head – Lightning to the Nations if Diamond Head wrote disparate songs that didn't make any melodic sense as a whole on their debut. Metallica should probably just write the sped up Thin Lizzy songs they clearly want to and stop trying to appeal to fans of Kill 'em All, "Fuel", and Death Magnetic at the same time. This lower common denominator composition is clearly for the paycheck.
Tags: hard rock, Heavy Metal, mainstream metal, metallica, new song, new track, Speed Metal, youtube