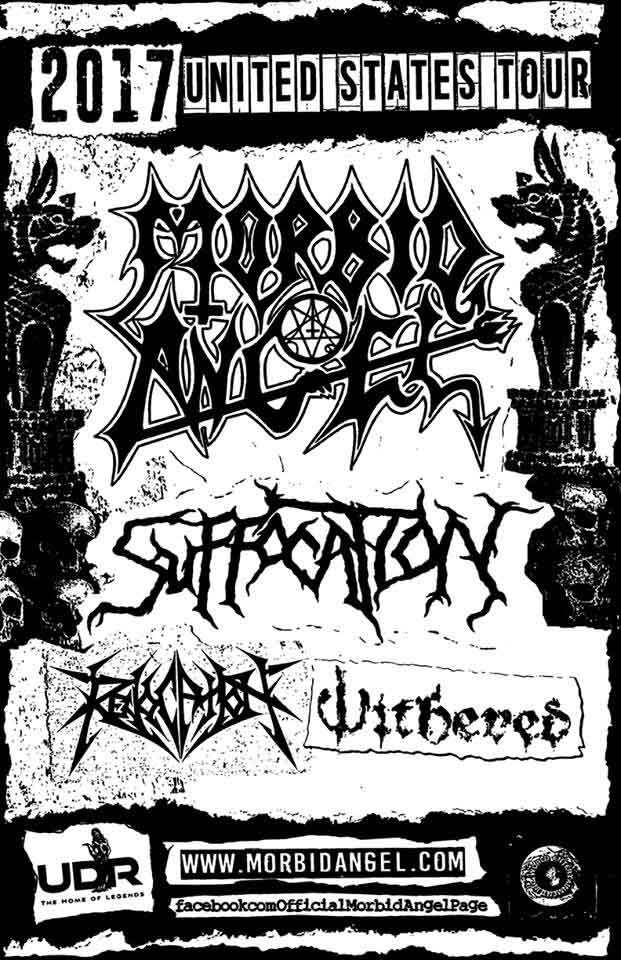 Morbid Angel announced an American tour this year with Suffocation as openers. Hopefully Trey and Steve's new album will not be radikult.
WORLD ENTERTAINMENT INC. and MORBID ANGEL would like to announce the band's first official Tour of the United States in 2017. The tour will commence on May 23rd in Orlando Florida at the Beachum and continue around the country until June 27th, in New Orleans at the HOUSE of BLUES. Full dates posted soon.

Steve and Trey: " We are excited to get back out on tour with longtime friends and death metal brothers SUFFOCATION as main support. We have added the technical thrash metalers REVOCATION and also WITHERED to what will promise to be a great night. The tour will also mark the unveiling of the new lineup of MORBID ANGEL featuring Scott Fuller ( Annihilated, Errorgeist), on drums, and
Dan Vadim Von ( guitarist / frontman of the American death metal band VadimVon) on second guitar.

Dan: "It is an honor to stand among my brothers Trey, Steve and Scott in the one and only Morbid Angel."

Scott: "I'm beyond thrilled & excited to have claimed the drum throne with my brothers in the mighty Morbid Angel! We are chipping away right now on the new album at Mana Recording with our great friend Erik Rutan! Stay Tuned!"

Steve: "I am stoked to get out and do some bad ass shows. This will be a devastating tour and I am looking forward to watching every band."

Trey: "We are excited to bring back lots of cool songs that haven't been in the live sets for a long while. Do you suffer the same sickness ????"

Trey and Steve are currently still in Mana's studios, continuing work with Long time friend ERIK RUTAN on the new album which is planed for a 2017 release on UDR / JVC world wide.
May 23 – Orlando, FL : The Beacham
May 24 – Tampa, FL : The Orpheum
May 25 – Atlanta, GA : The Masquerade
May 27 – Baltimore, MD : Maryland Deathfest
May 28 – Boston, MA : Brighton
May 29 – New York NY : The Gramercy Theater
May 31 – Pittsburgh, PA : Small's
June 1 – Cleveland, OH : House of Blues
June 2 – Detroit, MI : The Crofoot
June 3 – Chicago, IL : The Metro
June 4 – Minneapolis, MN : Cabooze
June 6 – Fayetteville, AR : George's Majestic
June 7 – Lawrence, KS : Grenada
June 8 – Denver CO : Bluebird
June 10 – Salt Lake City, UT : The Complex
June 12 – Seattle, WA : Studio Seven
June 13 – Portland, OR : Dame's
June 15 – San Francisco, CA : The Social Hall
June 16 – Los Angeles, CA : The Regent
June 17 – Pomona, CA : Glasshouse
June 18 – San Diego, CA : House of Blues
June 20 – Phoenix, AZ : Marquee
June 21 – Albuquerque, NM : Sunshine
June 23 – Dallas, TX : House of Blues
June 24 – Austin, TX : Grizzly Hall
June 25 – Houston, TX : House of Blues
June 27 – New Orleans, LA : House of Blues
Tags: death metal, morbid angel, suffocation, tour, upcoming tours, US tour