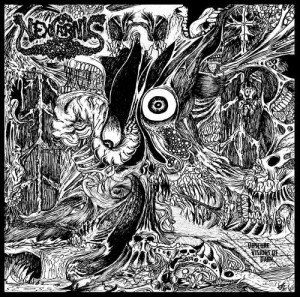 Iranian band Nex Carnis plays death metal in the old school vein with flashes of what they describe as experimentation. The actual state of affairs is a little different. The old school differences are pretty clear as one can hear the spirit of Morbid Angel and Sinister in the music.  But there is also a tendency towards phrasings and sound paintings that would be completely at home with more surreptitiously mainstream acts like Sylosis or Goatwhore. Regarding the descriptive term experimental there is much to be said.
To begin with, every time the word experimental is used to describe any album, it causes cautious eyebrows to be raised. Here is a wiki-description of what is  experimental music:
Elements of experimental music include indeterminate music in which the composer introduces the elements of chance or unpredictability with regard to either the composition or its performance. There are many ideas broadly utilized by experimental musicians which are not, however, strictly experimental music concepts, having seen significant application prior to the advent of experimental music, particularly by the avant garde. Examples include: extended techniques (Instrumental or vocal performance techniques that step outside (often far outside) conventional performance techniques) and graphic notation (music which is written in the form of diagrams or drawings. Other elements include "Prepared" instruments—ordinary instruments modified in their tuning or sound-producing characteristics; using instruments, tunings, rhythms or scales from non-Western musical traditions; using sound sources other than conventional musical instruments, such as trash cans, telephone ringers, or doors slamming; creating experimental musical instruments for enhancing the timbre of compositions and exploring new techniques or possibilities; using a tape loop to create a tape phase; and removing perceived barriers of traditional concert settings by putting performers scattered among the audience.
In other words, mostly gimmicky music. Music that intends to attract through the use of unconventional techniques. The very nature of experimental music, it has huge pitfalls, a dangerous land which only the most visionary and steadfast artists tread safely. One of these treks was successfully undertaken by the Candian band Gorguts and  the result was Obscura. Incredibly aware and well-constructed, but also conventional and even orthodox death metal which could only be described as experimental in regards to the guitar techniques, pitches and noises they used in their improvisation-born riffs.
Obscure Visions of Dark, however, are more in line with the experimentation as exemplified by Deathspell Omega. Although not going to the extreme that band went to, Nex Carnis' music is characterized by digressions and branch-outs from the main ideas in the songs. These often take the form of atmospheric interludes. Nex Carnis will appeal to Deathspell Omega fans looking for something slightly more conventional and inconspicuous.
Tags: 2015, death metal, deathspell omega, experimental, Goatwhore, Iran, mainstream, Nex Carnis, Obscure Visions of Dark, Sylosis