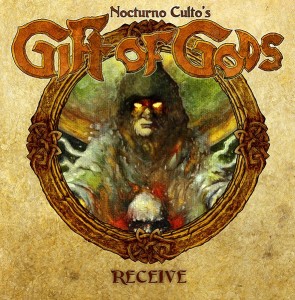 Nocturno Culto, who forms one-half of the nefarious duo known as Darkthrone, has a long history of side projects. Among other contributions, he worked out the intricate riffcraft behind Satyricon's Nemesis Divina, making it a favorite in that band's catalog.
Now he has embarked on a new side project which is a pure traditional heavy metal band called Gift of Gods. Gift of Gods will release its debut mini-album Receive on Peaceville Records on November 5, 2013.
Commented Nocturno Culto, "Finally, the mini-album is done. Gift Of Gods has been a great ride for me. I don't want this to end now, so I will most likely work on new material. Thanks to my partner in crime, K.A. Hubred, we got to rehearse during the last two years. What to expect? I have no idea how to describe this, but it's metal for sure."
Receive was performed and recorded by Culto and Hubred at Culto's home studio, and mixed and mastered by Jack Control at Enormous Door, who recently worked with Nocturno on Darkthrone's The Underground Resistance.
So far the only reports tell us this will be traditional heavy metal with a wide range of influences and that it will lead toward the melodic side of things. This EP/mini-album will be a half-hour of material including a cover of "Looking For an Answer" originally by obscure Swedish 80s band Universe.
Intro
Enlightning Strikes
Receive
Looking For An Answer
Last Solstice
Outro
Tags: darkthrone, gift of gods, Heavy Metal, k.a. hubred, melodic metal, nocturno culto