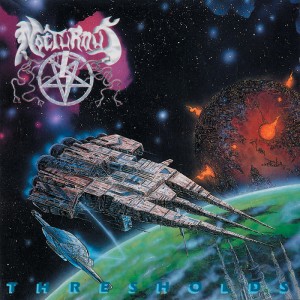 Classic Florida progressive death metal band Nocturnus, famous for spidery riffs interlaced with outer space keyboards, dominated the metal world's appetite for bizarre and uncompromising music back in the 1990s, but their music is now out of print.
Their label, Earache Records, wants to re-issue the Nocturnus classic Thresholds, but there's a catch: the fans have to pay for it in advance. Unlike the usual underground pre-orders, where individual fans order the album and when there's enough cash the label takes it to print, Earache is using a Kickstarter page to launch the funding request.
If demand is met, Thresholds will be pressed on 100 clear, 200 green, 300 purple and 400 black LPs with the recording taken from the original DAT master. For more information, visit the Nocturnus Thresholds re-issue Kickstarter page.