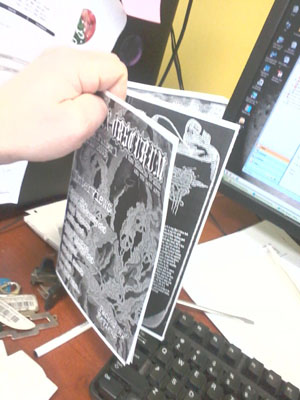 Codex Obscurum fills a void left open when the old school fled to the basement in advance of encroaching hardcore hybrids like metalcore and nu-metal: the print zine that exists to promote a community against impossible odds.
For those who weren't there, back in the "old days" (like, 20 years ago), zines were the most common means of spreading information. You couldn't buy death metal in regular record stores, society hated it and often tried to ban it, and most people regarded metalheads as declasse outcastes who should be viewed with suspicion.
Enter the zines. For the price of postage, sometimes plus a little more for printing costs, although most were paid for (unknowingly) by corporate stooge employers, you would get fifty pages of xeroxed hand-drawn mayhem delivered to your door, including interviews and reviews of your favorite bands, and the all-important advertising by mail-order distros that you otherwise did not know existed.
Codex Obscurum fills this void with its release this week. To get a copy, you "mail-order them, old school style. No profit, you'll just be paying for postage costs." The publishers describe it as "a New England based old-school print zine dedicated to music, art, and all things dark." And it looks traditional: fifty xeroxed pages of wisdom, chaos and brilliance.
To order, send $3 plus shipping via BigCartel.
Direct all further questions to the staff through their Facebook page.
Tags: codex obscurum, zine