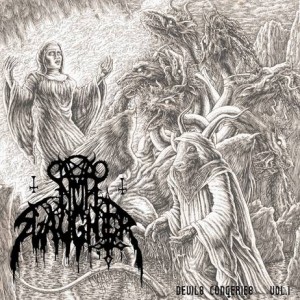 Grinding midwestern primitive catchy death metal band Nunslaughter will release The Devils Congeries Vol. 1 on July 23, 2013, on Hells Headbangers record label. This 2-CD set is part of a series of releases which will attempt to compile every single short-length Nunslaughter vinyl release from the late 90s and early 2000s with their Killed by the Cross early 7″ as well.
The second disc contains live versions of many of the same songs. An elaborate booklet contains artwork from each EP and other background information. While this CD set seems designed for collectors, it's probably a great series like the Relapse Underground series from the late 1990s which can be both introduction and archive.
For those who enjoy the humorous, ribald, blasphemous and rhythmically infectious style of primitive death metal that Nunslaughter have produced for decades, The Devils Congeries Vol. 1 should be a delight of chaotic metal thrashing noise.
Disc 1 (studio)
1. I.N.R.I
2. Power of Darkness
3. Sacrifice
4. Emperor in Hell
5. Demons Gate
6. Bring me the Head of God
7. If the Dead Could Speak
8. Devil Metal
9. Black Beast
10. Church Bizarre
11. Midnight Mass
12. Resurrection
13. It is I
14. Poisoned Priest
15. Fire
16. Obsessed with the Visions of a Satanic Priest
17. Atheist Ways
18. The Fucking Witch
19. She Lives by Night
20. NunSlaughter
21. I Am Death
22. NunSlaughter
23. Hells Unholy Fire
24. Killed by the Cross
25. Burn in Hell
26. Hells Unholy Fire
27. Death by the Dead
28. Killed by the Cross
29. I Am Death
Disc 2 (live)
1. Face of Evil
2. Emperor in Hell
3. Dead Plague
4. Midnight Mass
5. Killed by the Cross
6. I.N.R.I
7. Fire
8. Power of Darkness
9. Blood for Blood
10. The Fucking Witch
11. I am Death
12. Death by the Dead
13. It is I
14. Altar of the Dead
15. Atheist Ways
16. Reign in Blood
17. In the Graveyard
18. Obsessed with the Visions of a Satanic Priest
19. Burn in Hell
20. Burning Away
21. NunSlaughter
22. Satanic
23. Black Horn of the Ram
24. Piranha
25. Hellchild
26. Ritual of Darkness
27. Devil Metal
28. Church Bizarre
29. Poisoned Priest
Tags: death metal, nunslaughter