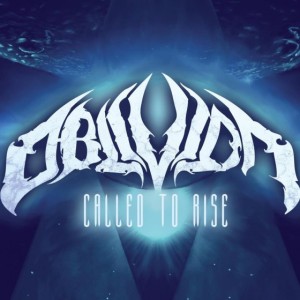 Of all the newer school bands out there, Oblivion struck us here at deathmetal HQ as one of the more imaginative ones.
It is clearly of the modern metal model, following the "great contrast" approach in riffing rather than the integrative nature of the old school, but it displays intense creativity and technical mastery. In addition, Oblivion seem to know how to make a song out of a musical idea and not devolve into randomness like so many of their contemporaries.
Other aspects of Called to Rise impressed us as well. There's experimentation with sound on these tracks, a willingness to corrupt the metalcore "great contrast" riffing with some integrative ideas, and an adoption of classical forms, songs and approaches that pushes this album over the top.
Oblivion is a modern metal metal band to watch, and Call to Rise is an album that will surely stimulate some depth of discussion. We are thus fortunate here at DeathMetal.org to be able to both stream this album live, and present our interview with Oblivion's Nick Vasallo:
What got you into metal?
I resisted Metal as long as I could. I was more of a punk rocker as a teenager, but I realized the awesomeness of Metallica's "One" when it came out. During the double bass, palm-muted, open-E breakdown I was a secret admirer of metal. Seeing a band from Oakland called Eldopa (1332) sealed the deal. Then my good friend at the time (Ben Orum, who is now in Oblivion), turned me onto Death Metal. For this reason I still think Cannibal Corpse's The Bleeding and Deicide's Legion are the best albums from this genre.
As you grew into metal, what brought you to your current form? How did you all come together, and what types of music and ideas were influencing you at the time?
I formed Antagony with Ben, our best friend Carlos Saldana, and our late friend Jody Handy. We just wanted to create the heaviest, darkest music possible. We ended up creating something that was, in hindsight, very influential to other bands that came after us. I stepped away from music for a while, but had the urge to come back and write music that was more technically demanding on the musician and listener.
You've outlined a clear relationship between classical music and metal on this CD, with three string orchestra pieces and a cover of "Canon in E Minor." What inspired you to write and cover these pieces?
I wanted listeners to hear that there is a direct parallel between these two musics. For instance, when the song "Multiverse" is initially presented it is a metal song because it is played by a metal band. In context we are stuck to this association. But when the song is reprised it is performed by a strong orchestra and we perceive it differently. Perhaps the complexities emerge because we now listen to it and look at it through a different lens.
Do you think metal and classical share anything in common?
YES, they do. I have written about this subject extensively and I hope it is okay that I direct readers to my writings here: http://nickvasallo.com/#!papers/ccca
Where did you guys get your technical chops? Are you professionally trained musicians?
I don't like the term "professionally" trained. There are some musicians I know that have never taken up formal music training, but can play better than someone that has been trained since they were a toddler. Every musician picks up something from another. That is how music was taught originally. But to answer the question, yes – Luis and I have been trained academically. Everyone else has either taken guitar lessons with a talented musician and/or learned in from playing with a multitude of other talented musicians.
Can you tell us how you got the distortion on your guitars? Are you using pedals, processors, virtual amps, amplifier settings or a combination of the above?
We use tube amps with distortion. Ted is sponsored by Rhodes, Ben by ENGL.
Do you think metal is evolving? Where do you think it's going?
Yes, Metal is evolving. And it better evolve or it will stagnate and die! Most bands stagnate and eventually die. Movement is necessary to encourage growth and progress. I don't know where Metal is going. If it follows the same pattern, it will continue to find avenues of transgression. Only to revert back to its fundamentals one day, searching for truth.
What's next for Oblivion? Will you be touring, and/or writing new material?
Begin writing our second album.
If you could ask fans to do one thing in order to understand your music, what would it be?
Put your phone away, put your internet away, and give your undivided attention. Listen carefully…
Do you think metal fans are open-minded or closed-minded or somewhere in between?
A paradox of open minded close-mindedness.
Now that you've completed this massive work of complex metal, what's the next challenge for you as songwriters?
Evolving.
Tags: metalcore, modern metal, oblivion, progressive, technical metal